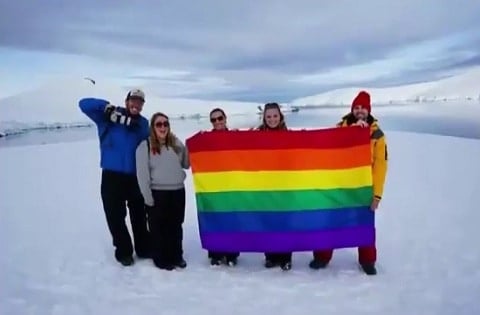 Non-profit organization Planting Peace – which is responsible for Equality House – has declared Antarctica to be the world's first LGBT-friendly continent.
The group is aiming to "instill full fundamental human rights to LGBT people inhabiting or visiting the continent of Antarctica."
Antarctica has been named the world's first "#LGBT-friendly continent" by @Planting_Peace – https://t.co/5OVAxhzdE3 pic.twitter.com/4hA5dDmnAD

— GayTravel.com 🏳️‍🌈 (@GayTravel) March 22, 2016
Planting Peace President and founder Aaron Jackson has traveled across Antarctica carrying a Pride flag "to raise awareness for the need for action across the planet because basic rights are still denied to the LGBT community in so many countries across the world."
The organization is also hoping to highlight the fact that 76 countries around the world continue to ignore the United Nations Declaration of Human Rights. In six of these countries, homosexuality is still punishable with death.
(Image via Twitter)
Watch a CNN report on Rainbow House in Topeka below.