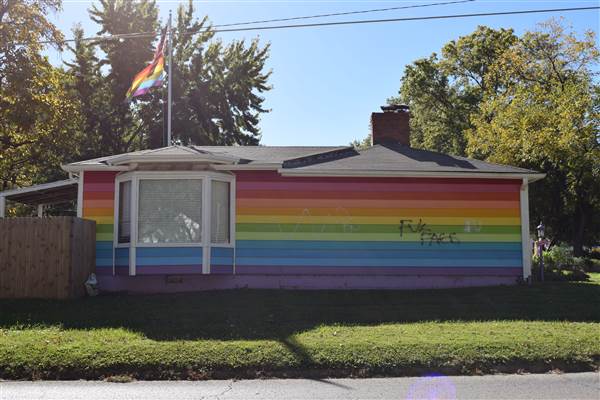 Equality House, the famous rainbow-emblazoned house across the street from the Westboro Baptist Church's headquarters in Topeka, Kansas, has been attacked with anti-gay graffiti and bullets.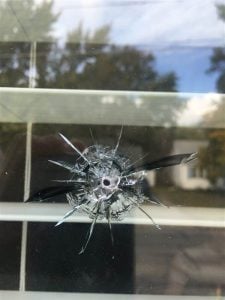 "Fuk fags" was spray-painted on the side of the house and seven bullet-holes were found in what is the latest attack on Equality House.
Actions taken and threats made against Equality House have reportedly reached a new zenith this year, the third year that Equality House has existed since being opened in 2013.
Recently, an individual who claimed to be a member of the KKK made anti-LGBT threats and a feces and urine were found in Equality House's resource center.
NBC OUT reports on this latest attack and the uptick in targeted action against the house: 
Aaron Jackson, president of Planting Peace and founder of the Equality House, was inside at the time the house was vandalized on Sunday with spray-paint. He was awoken at around 1:12 a.m. when he heard loud noises coming from outside. He called the police, and once they had arrived, they found the anti-gay slurs on the house. A few days later, seven bullet holes were found on the same side of the home.
This, unfortunately, is just the latest in a recent string of vandalism against Equality House.
"The Equality House has been a target for acts of hate and intolerance that reflect the same experiences our LGBT family face every day," Jackson said. "Planting Peace frequently receives hate mail and even death threats, but over the past three months we have seen an increase in physical acts of vandalism and violence. While it may seem shocking to some, it's a heartbreaking reality."
Recently, Planting Peace made history by launching the first pride flag into space.
[Photos via Aaron Jackson/NBC OUT]