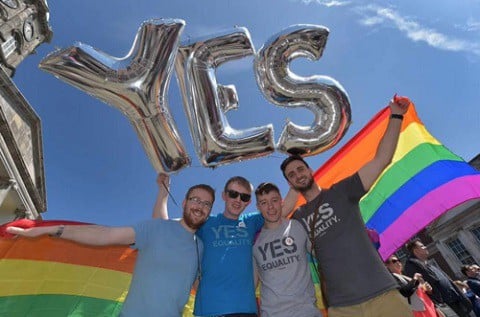 A new survey shows that despite a public referendum last year legalizing same-sex marriage, LGBT youth in Ireland are twice as likely to self-harm and three times more likely to attempt suicide when compared with their heterosexual peers.
Completed by 2,200 people, the Gay and Lesbian Equality Network (GLEN) survey also reveals that LGBT youth are four times more likely to experience stress, anxiety and depression.
Odhran Allen, GLEN's director of mental health, says the report shows widespread misunderstanding towards LGBT youth.
"Some of the findings of The LGBT Ireland Report are harrowing, showing higher levels of self-harm and suicidal behaviour among LGBTI teenagers as well as worrying levels of severe and extremely severe stress, anxiety and depression.
"Being LGBTI in itself doesn't increase the risk of poor mental health. It's the experience of being bullied, being rejected or being harassed because you are LGBTI that leads to higher levels of self-harm and attempted suicide.
"Compared to the My World National Youth Mental Health Study, LGBTI young people in this study had two times the level of self-harm; three times the level of attempted suicide; four times the level of severe or extremely severe stress, anxiety and depression."
Dr Carol-Anne O'Brien, director of advocacy at BeLonG To added: "The findings are stark. 56% of LGBTI 14- to 18-year-olds had self-harmed, 70% had suicidal thoughts and one in three had attempted suicide."
The #LGBTIreland Report was launched by Dr Mary McAleese today. Read the key findings here https://t.co/QrwDK5E72n pic.twitter.com/SyQwW6bnRS

— GLEN (@glenLGBT) March 22, 2016
Despite the introduction of groundbreaking gender identity legislation last year, a later survey found that at least 40 percent of transgender people in Ireland had attempted suicide at least once.
Watch a CNN report on the same-sex marriage referendum in Ireland below.