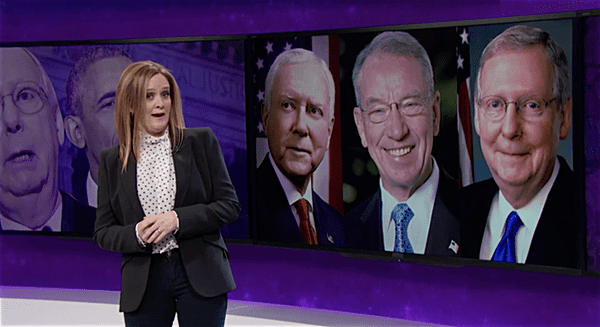 This week, Samantha Bee took on Republican obstructionism in the face of President Obama's nomination of Judge Merrick Garland to replace Antonin Scalia on the Supreme Court.
There was perhaps no greater proof of Republicans' absurd opposition to Garland than Senator Orrin Hatch stepping in it just days before the president made his announcement.
Said Hatch in the lead up to President Obama's nomination of Garland, "The president told me several times he's going to name a moderate [to fill the court vacancy], but I don't believe him. [Obama] could easily name Merrick Garland, who is a fine man. He probably won't do that because this appointment is about the election. So I'm pretty sure he'll name someone the [liberal Democratic base] wants."
The delicious irony of that statement was not lost on Bee, who joked, "Psych! Obama did exactly what Hatch said he wouldn't. Which is why Hatch then said, 'I bet Obama would never give me a million dollars, a jet ski and let me attend Oval Office meetings as heavenly father made me."
Bee went on to eviscerate Republicans for invoking the so-called "Biden rule", and for calling President Obama a "lame duck" since they obviously don't know what that term means:
"Jesus Christ, he's not a lame duck. He's three trimesters away from lame duckery. A president's term is four years; you can't say three of them are legitimate and the fourth is garbage. They're not 'Indiana Jones' movies."
Referring to Garland, Bee demanded of Republicans, "Why are you cock-blocking this gentle law hobbit?"
Republicans say it's because the 2016 election should decide who Scalia's replacement will be. Bee sums up that argument thus: "Whether it's Hillary Clinton appointing a transgender black panther abortion doctor tot he court or Donald Trump appointing a pile of Maxim magazines, that is their right. Not President Obama's."
Watch as Bee takes Republicans to task, below.