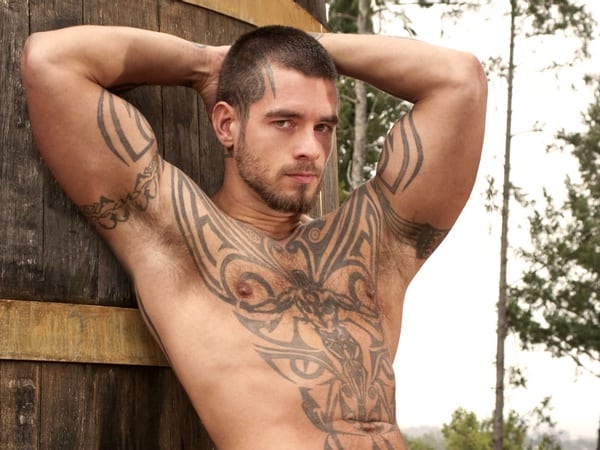 Logan McCree, the heavily-inked adult film actor who appeared in dozens of films from Raging Stallion and other studios, landing him Grabby and GayVN awards, has retired to become a firefighter in a small Scottish coastal town.
McCree, aka Philipp Tanzer, told the Scottish Sun that the entire town of Durness, Sutherland, where he works, knows about his past as does his firefighting squad and everybody's totally cool with it.
Said Tanzer, who has background as a medic in the military:
"Everyone in Durness has heard about it. But I really try and help in the community as much as I can and people are very grateful. They needed fresh blood and I was willing to help. They asked me if I wanted to join and I said 'Sure, why not?' especially since I'm my own boss. They asked the area manager and he said, 'Yes, it doesn't have an impact on his job'"
The Sun also interviewed one of McCree's fellow firefighters:
"I'm one of his work mates — but not in a film capacity obviously. We would all have preferred it if he was a female porn actress. But he is what he is.  We asked him because he's a young fit bloke. We need young fit men or women. None of us have a problem with his past. I haven't seen any of his movies, but apparently he's very good. He's just Philipp. He's a damn fine guy."
Tanzer says he'd like to settle down with a woman and start a family.
Watch McCree offer his thoughts about London: