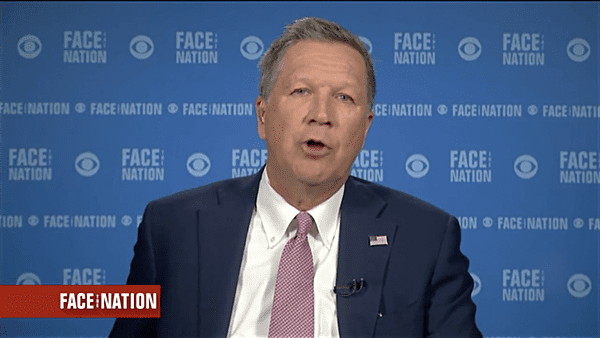 John Kasich has quickly walked back remarks he made on the Sunday morning talk shows in which he stated that, if elected president, he would consider nominating Merrick Garland to the Supreme Court.
Garland was nominated by President Obama last week to fill the vacancy on the Court left by Antonin Scalia's passing. Despite being a supremely qualified and moderate candidate in the eyes of most legal experts, senate Republicans continued to tow the party line best iterated by Donald Trump: "Delay, delay, delay."
For that reason, Kasich turned heads when he said on both Meet the Press and Face the Nation that if elected president he would also consider Garland as a replacement for Scalia.
Kasich told Chuck Todd, "If I'm president, which I think we got a good shot at being, maybe he'll be under consideration for the Supreme Court. I don't know. But they ought to meet with him, you know, show him that amount of respect." He did add, however, that he did not support President Obama making the nomination in the first place. And as far as hearings are concerned, he said, "The hearings aren't going to mean anything."
Meanwhile, on Face the Nation, Kasich was asked specifically whether he would nominate Judge Garland. Said Kasich, "He received overwhelming support, I think, from Senator Hatch, so of course we'd think about it."
When pressed by reporters later in the day, Kasich chalked his comments up to "being polite" and said he would not, in fact, consider Garland for the Court:
"You know, in an effort to be polite today, apparently I've created a little bit of a situation. Look, you know, Garland is––I'm gonna have my own picks for the Supreme Court. You know, the fact is, I said that they ought to meet him and talk to him and, you know, I'm not gonna pick somebody who's, you know, obviously not a respecter of the Second Amendment. I don't want people making law and so, nobody should be confused, worked up, or upset. He's not gonna be my pick for the Supreme Court."
AUDIO: John Kasich on President Obama's nomination of Merrick Garland for SCOTUS. pic.twitter.com/KqJyBzPWD7

— Team Kasich (@TeamJohnKasich) March 20, 2016
Watch Kasich's interviews on Meet the Press (which begins at the 9 minute mark) and Face the Nation, below.
[h/t Mediaite]