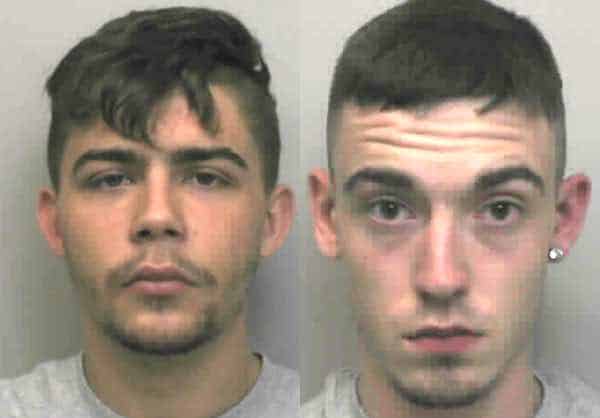 A gay man in the UK was robbed, tortured and threatened by a young couple he met on Grindr last July.
Jordan Bridge-Simmons (above left, 20) and Tyrone Platt (above right, 20) have been sentenced to six years in prison for perpetrating that assault but could reportedly be released in 4.
Once Bridge-Simmons lured the victim to a home he was staying at in Northampton, England, he and his boyfriend, Platt, beat up the victim while naked for over an hour. They also scraped two machetes together to increase the victim's terror.
Platt also forced the victim to withdraw £300 pounds from an ATM. When they returning to the house from the ATM, they found Bridge-Simmons had crashed the victims' car into a neighbors' Mini Cooper which in turn smashed into that neighbors' home.
The assailants reportedly targeted the victim because he is middle-aged. According to officials, Bridge-Simmons and Platt thought the victim would be embarrassed by the sexually explicit messages they sent on Grindr and would not report the crime to police as a result.
Bridge-Simmons and Platt eventually made their way to a hospital where they were arrested.
Last month, a jury found Bridge-Simmons guilty of actual bodily harm, robbery and false imprisonment. He had earlier admitted stealing the car and driving it while drunk.
Platt was found guilty of false imprisonment after earlier admitting attacking the victim at the cash machine and robbing him.
The victim, who wants to remain anonymous, spoke to The Northampton Chronicle and Echo about the assault he endured:
"I have never in my life hit anyone and I'd never been hit.
"I was so frightened. I can't put into words how terrified I was.
"When they brought the knives out in the dark you could hear them scraping them together. I thought I was going to be killed, I really did."
The victim, a middle-aged man, was beaten so badly by the 20-year-olds that he suffered a bruised diaphragm.
"You see these programmes about victims of rape and assault where they say try to remember as much as you can," he said, "and that's all I was fixated on. I was taking what they were giving to me and trying to remember every step of the way."
After the two men were convicted and sentenced, the victim said he doesn't hate his assailants, "because hate is a strong thing." He added:
"I kind of feel sorry for them, really.
"I've been in the airforce and worked since I was 13 and have got a good job and comfortable lifestyle. I've not been in care.
"But it doesn't give them an excuse. What's right is right and what's wrong is wrong. Everyone knows the difference."
The victim says nobody deserved the ordeal he endured.
He said: "Irrespective of how you meet, chatting to someone online is no different from walking up to someone at the pub.
"Nobody deserves to be robbed and beaten up like that."
Detective Cathy O'Connor, who led the investigation, said: "I am pleased that the jury found these two men guilty for committing awful crimes against the victim, who feared for his life during the attack.
"This was a premeditated and perverse crime, but thanks to the bravery of the victim in reporting this they no longer have the freedom to commit such crimes against anyone else."