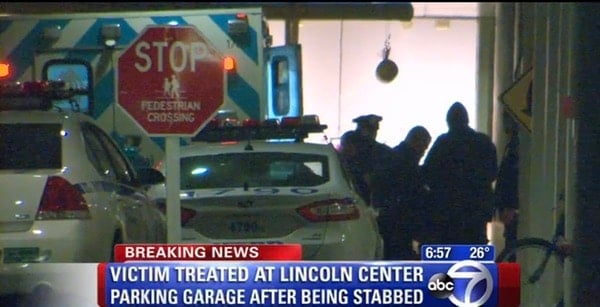 An alleged violent domestic dispute between two men unfolded early this morning on New York's upper west side, according to local news outlets:
A man is accused of stabbing his partner in the head with a screwdriver during a domestic dispute on the Upper West Side. He was treated inside the Lincoln Center Parking Garage following the stabbing, which occurred inside an apartment on Amsterdam Avenue just before 5:45 a.m. According to the New York City Police Department, the 28-year-old victim was stabbed twice in the head with a screwdriver.
The victim ran across the street to the parking garage and was found there. He taken to Roosevelt Hospital with two puncture wounds, considered non life threatening head injuries. He is stable.
The victim and the man charged with the stabbing, who is now in police custody, have not been identified.