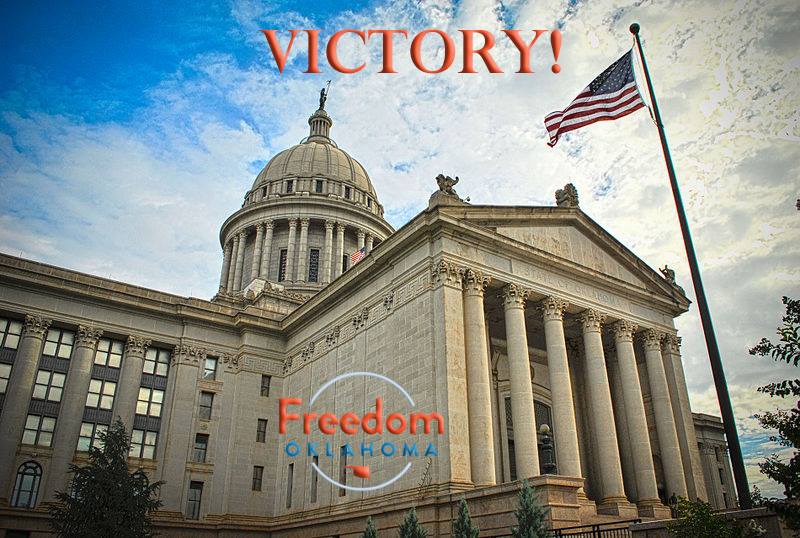 Suck it, Sally Kern!
Back in January, we told you how Oklahoma lawmakers had set a record for the most anti-LGBT bills filed in the history of any state — eclipsing Texas' mark established last year.
On Thursday, the LGBT rights group Freedom Oklahoma declared victory over the "slate of hate," announcing that all 27 anti-LGBT bills filed this session have died.
"We have seen a truly unprecedented level of community advocacy this legislative session, and fair-minded legislators – both Republicans and Democrats – have listened," the group wrote. "There will be no anti-LGBTQ laws passed in Oklahoma this year. It is our greatest hope that going forward we will be fighting for positive change, rather than fighting back against discrimination. But no matter what, we will keep fighting until every Oklahoman is equal under the law, and in every walk of life."
Most of the discriminatory Oklahoma bills were of the standard variety: proposals to undermine marriage equality, give businesses and other entities a license to discriminate against LGBT people based on religious beliefs, and bar trans people from using public restrooms according to their gender identity.
But there was also some less common legislation, such as a pro-"reparative therapy" bill, a measure that would allow university student groups to discriminate against LGBT people without losing their funding, a proposal that would require trans people to disclose whether they've had gender reassignment surgery before obtaining marriage licenses; and a measure that would have required people to test negative for syphilis and "other communicable or infectious diseases" before obtaining marriage licenses.
In defeating the bills, Freedom Oklahoma got help from the Human Rights Campaign, the ACLU of Oklahoma, Oklahomans for Equality, the Family Equality Council and the Equality Federation, according to HRC.
"This 'slate of hate' was part of nearly 200 anti-LGBT bills that were introduced across 32 states this year," HRC wrote. "Over 100 bills are still active, representing an onslaught of anti-LGBT bills being pushed this year by anti-equality activists around the country."