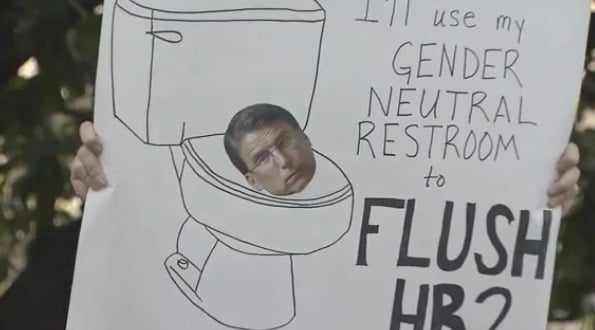 Five people were arrested as crowds of people from all over the state numbering in the hundreds descended on downtown Raleigh, North Carolina last night to protest a bill signed into law Wednesday night by the state's governor, Pat McCrory.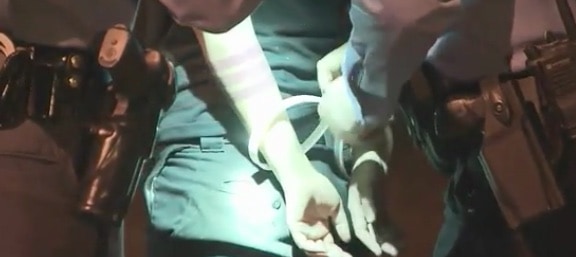 The oppressive bill, focused on the right-wing obsession with denying bathroom rights to transgender citizens, prohibits all locally enacted LGBT rights ordinances statewide.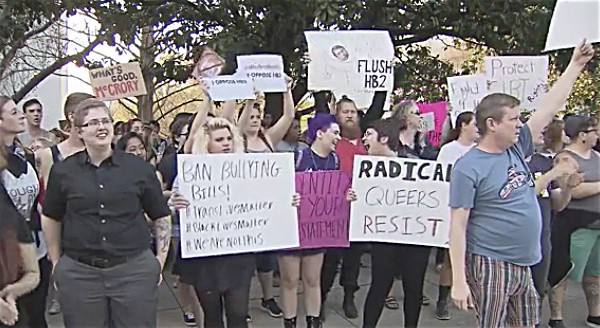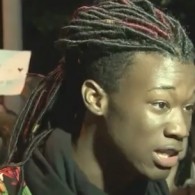 A small group of people in the middle of the protesters that showed up on Wednesday night were one-by-one arrested and carried away.
"All of these people are angry. They are upset," said Micky Bee of the Transgender Law Center. "They have been left out of the democratic process."
Republican backers say the bill is about public safety. Elizabeth Clements said she is not directly affected by the law, but she traveled from Charlotte to stand alongside the protesters.
"Our communities are strong, our communities are resilient, and our communities want solutions that include them," Bee said."This is hate and bigotry."
Watch:
Yesterday, many powerful corporations and organizations began speaking out against the law. Among them, IBM, Bank of America, Lowe's, PayPal, Duke University, and the NAACP.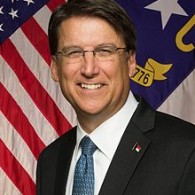 McCrory's office responded to the outrage with this statement:
"Standing with North Carolina parents who are worried about the privacy and safety of their children will always be a top priority for the governor, no matter the spin by the media, pundits or politically correct crowd."