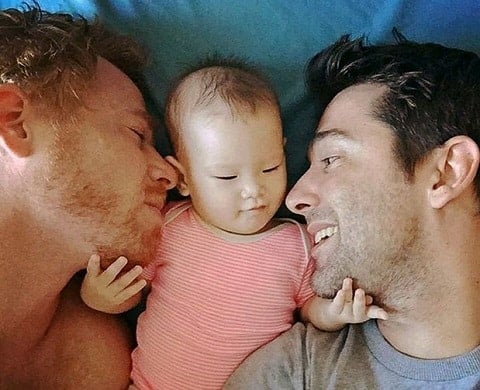 An American-Spanish gay couple yesterday opened a custody battle for a baby girl born to a surrogate mother in Thailand. The birth mother decided she wanted to keep the child when she found out the couple are gay. However, it is alleged that her pregnancy was a plot to have a mixed-race child. 
American citizen Gordon Lake and Spaniard Manuel Santos launched the legal battle in January last year. The case is complex because Thailand does not allow for same-sex marriage. Additionally, a new law banning commercial surrogacy took effect after the baby Carmen was born. Baby Carmen has lived with the couple since her birth.
Watch "A day in Bangkok" on @Vimeo #helpbringcarmenhome https://t.co/KRqbmkipmT

— Fallon Brinkley (@FallonBrinkley) July 29, 2015
Lake – Carmen's biological father – wrote on the couple's crowdfunding page:
"Our lives have been turned upside down.  Our jobs are in danger, our family is now divided, false allegations and criminal charges have been brought against us. What was supposed to be the happiest 4 weeks of our lives, bonding with our new baby girl – our daughter and our son's new little sister – has turned into an absolute nightmare.
"After giving consent for us to take Carmen home from the hospital, our surrogate refuses to sign for her passport and to give us the consent document we need to leave Thailand.
"She originally said that we weren't an "ordinary" family and that she worried for Carmen's upbringing.  Then there were many other excuses and allegations including that we were involved with human trafficking.  Finally we have discovered that our surrogacy agreement maybe have been a plot for her to have a mixed-race baby."
He added that he had been clear with the surrogate mother and the surrogacy agency from the outset that he and his partner are gay.
Following the change to surrogacy laws in Thailand there was a grace period for parents whose babies were already on the way. The couple's lawyer, Rachapol Sirikulchit, says he is confident they will be awarded custody.
Watch a video from the couple's crowd funding page below.