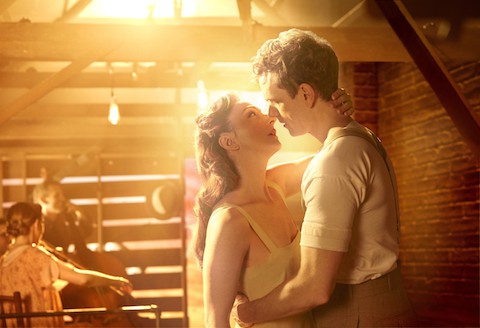 There is something winning and infectious about Bright Star, the new musical from Steve Martin and Edie Brickell that opened at the Cort Theatre last night. Its down-home, bluegrass score and whole-hog onslaught of Americana inspire a certain knee-slapping, clap-along impulse even in the most dispassionate of country-music listeners (full disclosure, count me among them). True to its musical genre, though, it do-si-dos on the edge of cliché and crosses over with gusto many times. But even with a sweet ending that's predictable by intermission, its charms are enough to engage viewers along the way.
The North Carolina-set musical, previously produced at San Diego's Old Globe Theatre in 2014, is based on "true events" (about which its creators have remained tight lipped), and inspired by an album Brickell and Martin released together. The story time-hops between periods: just after WWII, when a young veteran turned aspiring writer (A.J. Shively) returns home determined to get published in the local literary journal; and the early 1920s, when the formidable female editor (Carmen Cusack) of said publication was young herself and fell in love with the heir to a produce business (Paul Alexander Nolan).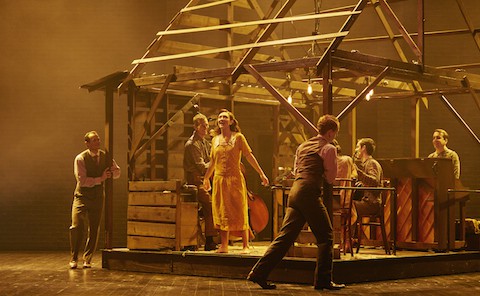 The plot's conceit is so simple that to say any more about how it unfolds might risk giving away the whole shebang. The assembled cast is uniformly strong, but the show belongs to Ms. Cusack, whose dual performance as a no-bullshit literary maven and a young, feisty lover is spectacular and deeply felt. Nolan makes a fine match for her, as a strapping farm boy and later, a resigned bachelor.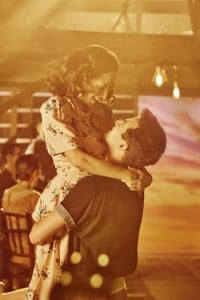 Martin, a career comedian, banjoist, and writer, brings a clever hand to the musical's book, mixing earnest, sometimes poetic storytelling with welcome laughs and moments of handy wordplay. It is no doubt partially to his credit that the musical continues to draw audiences in even once they know halfway through how it's going to end.
Brickell, best known for her 1988 album with the New Bohemians Shooting Rubberbands at the Stars, lends her signature, soulful sound to the score, which was written with Martin and is vibrantly brought to life by the onstage band (who are dynamite, by the way). While the music is mostly catchy and at times quite beautiful, Brickell's lyrics often come laden with aphorisms that feel like easy shorthand for more complex emotions. Some more obvious examples from the down-home handbook: "A man's gotta do what a man's gotta do," "You can come on home to me," "The sun is gonna shine again."
Though you'd hardly know it from the dreamy, amber-washed photos provided here by the production (see what I mean about an affection for country clichés?), director Walter Bobbie's staging is both dynamic and refreshingly lo-fi, seamlessly jumping from place to place and back and forth in time — no easy feat, especially with musicians sharing the stage.
No one can say that Bright Star doesn't wholeheartedly commit to its distinct flavor. But I do have to say — and I really wish I didn't — that it's aggravatingly vanilla, even for early-20th century via 2016. Yes, it's a reflection of the historical setting, but serving up an acquired taste like this one, can the show really afford to alienate people with #BroadwaySoWhite?
Follow Naveen Kumar on Twitter: @Mr_NaveenKumar (photos: nick stokes)