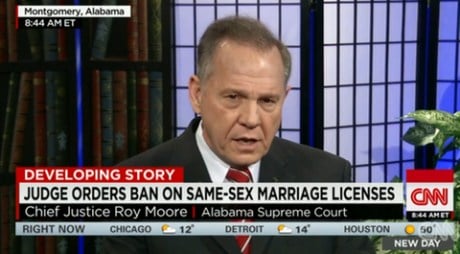 The Alabama Supreme Court on Friday dismissed a series of petitions asking the court to declare that the state's ban on gay marriage is still in effect.
That decision means anti-gay foes like the Alabama Policy Institute are now out of legal options to try and fight the U.S. Supreme Court's ruling on gay marriage in Obergefell v. Hodges. However, that fact didn't stop Chief Justice Roy Moore from writing a scathing rebuke of Obergefell and insisting that the state's ban on gay marriage is still in effect.
In January, Moore ordered judges to enforce the state's illegal same-sex marriage ban.
"Today this Court by order dismisses all pending motions and petitions and issues the certificate of judgment in this case," Moore writes. "That action does not disturb the existing March orders in this case or the Court's holding therein that the Sanctity of Marriage Amendment, …  and the Alabama Marriage Protection Act, § 30-1-9, Ala. Code 1975, are constitutional," he states.
Moore goes on to criticize at length the U.S. Supreme Court's 5-4 opinion in Obergefell.
"Based upon arguments of "love," "commitment," and "equal dignity" for same-sex couples, five lawyers, as Chief Justice Roberts so aptly describes the Obergefell majority, have declared a new social policy for the entire country," Moore writes.
"In reality, the Obergefell majority presumes to amend the United States Constitution to create a right stated nowhere therein. That is a lawless act," Moore states.
"The (SCOTUS) opinion appeals more to emotion than law, reminding one of the 1974 song "Feelings" by Morris Albert, which begins: "Feelings, nothing more than feelings ….," Moore adds. "Obergefell (the SCOTUS case) is but the latest example of the Court's creation of constitutional rights out of thin air in service of the immorality of the sexual revolution."
Moore also challenged the very idea that the U.S. Supreme Court has the final say on questions pertaining to the law and the constitution:
"The Supremacy Clause, quite obviously, by this chain of reasoning, does not give the United States Supreme Court or any other agency of the federal government the authority to make its every declaration by that very fact the supreme law of the land," Moore writes. "If the Court's edicts do not arise from powers delegated to the federal government in the Constitution, they are to be treated not as the supreme law of the land but as mere usurpation."
"In my legal opinion, Obergefell, like Dred Scott and Roe v. Wade that preceded it, is an immoral, unconstitutional, and tyrannical opinion. Its consequences for our society will be devastating, and its elevation of immorality to a special "right" enforced through civil penalties will be completely destructive of our religious liberty," Moore wrote.
You can read the Alabama Supreme Court's ruling on gay marriage issued today, below.