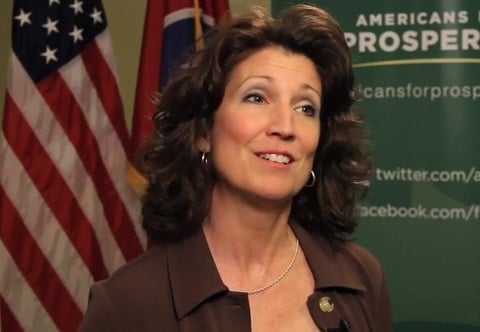 Tennessee House Reps have taken time out of a busy schedule to pass a resolution expressing disagreement with SCOTUS' decision on same-sex marriage.
The resolution, passed by 73 votes to 18, attacks the "judicial imposition of a natural marriage license law" which is apparently contrary to previous actions taken by the Tennessee legislature. While the 18 members who voted against the decision were Democrats, four of that party's Reps voted with the majority.
Republican Rep. Susan Lynn (above)–who called the marriage ruling "very dangerous"–told The Tennessean that the resolution aims to remind the Supreme Court that it violated the doctrine of severability.
"[The Supreme Court] can't decree that we now have to marry same-sex couples. Our law does not say that, it's never said that, and it was never the intent of the General Assembly to do that…If we let them do this today, they will do it more in the future. We need to speak up as a legislature."
Sarah Warbelow, legal director for the Human Rights Campaign, said:
"Though only symbolic, this shameful vote to encourage defiance of the highest court in the land is a slap in the face to loving and committed same-sex couples all over the Volunteer State. Lawmakers should be using their time and resources to help all families, but instead have prioritized a mean-spirited resolution that serves absolutely no legitimate purpose."
The resolution must now receive Senate approval before it can become official.
For a taste of Lynn's political character, watch her demand that President Obama eliminate ObamaCare and the Dept. of Education below.
https://www.youtube.com/watch?v=jKxMJ-Yfzvs