PHOTOGRAPHY. Colton Haynes partners up again with Tyler Shields.
IGNOMINY. George Mason University renames its law school after Antonin Scalia: "The University's Board of Visitors voted Thursday to change the law school's name to the Antonin Scalia School of Law at George Mason University. The school also announced $30 million in new donations, including a $10 million grant from the Charles Koch Foundation, which already underwrites the rest of the university so why not the law school too, I guess."
BEHIND CLOSED DOORS. Donald Trump unexpectedly meets with RNC Chair Reince Preibus in DC.
POLLING. If Trump becomes the Republican nominee, he will be the least popular major party nominee in modern times.
RIP. Groundbreaking British-Iraqi architect Zaha Hadid has died at 65: "She was not just a rock star and a designer of spectacles. She also liberated architectural geometry, giving it a whole new expressive identity. Geometry became, in her hands, a vehicle for unprecedented and eye-popping new spaces but also for emotional ambiguity. Her buildings elevated uncertainty to an art, conveyed in the odd ways one entered and moved through those buildings and in the questions her structures raised about how they were supported."
The Guangzhou Opera House in China is just one of many works by architect Zaha Hadid. https://t.co/fA7ajqfJOy pic.twitter.com/WCaMzJbJuF

— NPR (@NPR) March 31, 2016
PIONEER. Veteran LGBT news journalist Karen Ocamb talks about being let go by Frontiers Media: "I'm an old-school journalist so it's odd to have become a story. However, I do recognize that my longevity and my institutional memory suggest that I might bring something unique and valuable to LGBT journalism."
SOCIAL MEDIA. If you haven't been following the Debra Messing / Susan Sarandon Twitter feud then you haven't seen Shakespeare the way it's meant to be done.
DIGGING FOR THE TRUTH. 2,500 year-old Etruscan slab could help archaeologists crack the mysterious Etruscan language: "The sandstone slab originally stood in front of an Etruscan temple and is inscribed with 70 legible letters and punctuation marks."
LOL. The State Department doesn't want you to have any delusions of grandeur about meeting a hot foreigner abroad.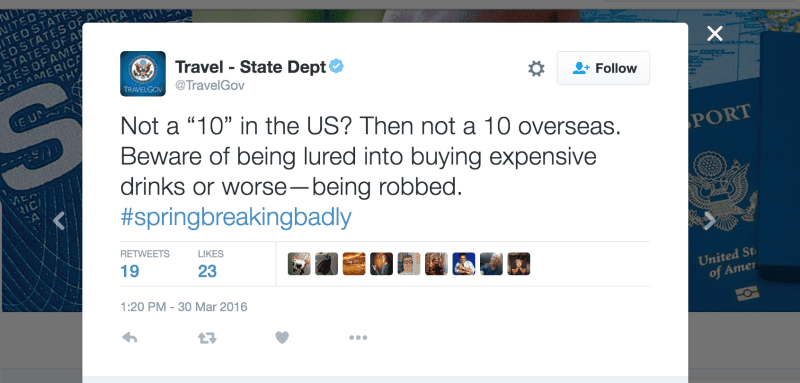 TELEVISION. Nate Berkus & Jeremiah Brent have a new TV show coming this fall. 
IN THE BUFF. LA Clippers player Blake Griffin stripped down on Broad City.
INSTAGRAM. Russell Quino will take you down under.
https://instagram.com/p/BCrjd4MgWmv/