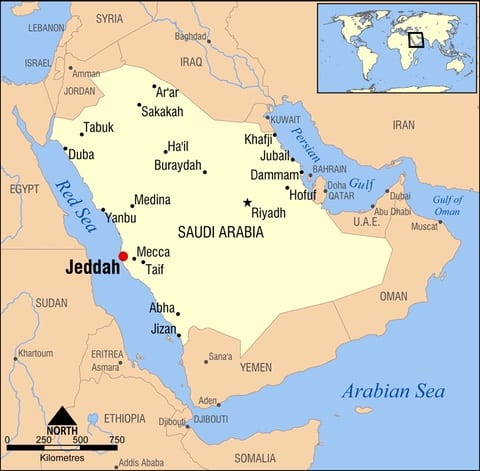 Reports are emerging from Saudi Arabia that government prosecutors are pushing for adherence to the death penalty for gays, particularly as it relates to online activity.
Okaz, a Saudi newspaper first published reports over the weekend, the Washington Blade notes:
Okaz, a Saudi newspaper, reported on Saturday that prosecutors in the city of Jiddah have proposed the penalty in response to dozens of cases they have prosecuted over the last six months. These include 35 people who received prison sentences for sodomy….
…A gay Saudi man who lives outside the kingdom told the Washington Blade on Monday during a telephone interview the enhanced penalties that Jiddah prosecutors have proposed would apply to the entire country. The man, who operates a Twitter account that publishes LGBT-specific news and other information from Saudi Arabia, said the proposal has caused fear among LGBT people in the country.
Chanan Weissman, a spokesperson for the State Department's Bureau of Democracy, Human Rights and Labor, told the Blade on Tuesday that the U.S. is "aware of these reports, but cannot verify their accuracy."
"We continue to gather more information," he said.
Under Saudi law, homosexuality is illegal and punishable by imprisonment, fines, corporal punishment, flogging and death.
The UK's Express reports:
The judiciary reportedly also claimed there has been a large rise in "perverts" displaying "sins and obscenities" on social media in the Sunni Kingdom.
Just last week, a doctor in Jiddah was arrested by the country's religious police for flying a rainbow flag over his home. He said he did not know that the rainbow was a symbol of gay pride and was bailed after an investigation.
In July 2014, Saudi Arabia sentenced a man to three years in prison and 450 lashes for "the practise of homosexuality," after attempting to arrange to meet another man using Twitter. That November, a court in Manama sentenced a gay man to three years in prison for engaging in "immoral acts". The man, who was apprehended by the Commission for the Promotion of Virtue and the Prevention of Vice after using nude photos to find sex online, was also ordered to pay a fine of SR100,000 (around $26,000).
The internet is the only place for gays and lesbians in Saudi Arabia to find others like themselves, according to a Blade source:
"We can't do a thing about it, but try to make some noise so activists from other countries would hear about it and talk to their politicians to pressure Saudi to change its policies," said the source.
"The Internet is the only safe haven to LGBT individuals in the Middle East. If this is taken from us, we won't have anywhere else to go." The man behind the Saudi LGBT Twitter account agreed.
"It's their only outlet," he told the Blade. "There's no other actual space for LGBT people to meet outside the Internet."
A hashtag ("I'm gay. You will not terrorize me") is taking hold on Twitter to show solidarity with the LGBT people of Saudi Arabia.
https://twitter.com/emisonsouls/status/714378074247208960?ref_src=twsrc%5Etfw
https://twitter.com/alyciatheist/status/713711929773191169
https://twitter.com/Maviloss/status/713693659380781056
https://twitter.com/jediIwt/status/713690234643296257
(map image wikimedia commons)