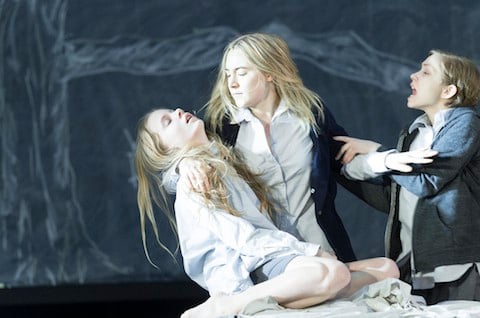 Crazy government officials using religion as a weapon against women's bodies. Fearmongering demagogues scapegoating a particular group of citizens. Sound familiar? Director Ivo van Hove's haunting and melodramatic revival of Arthur Miller's The Crucible, which opened last night at the Walter Kerr Theatre, is as close an allegory of the sinister circus presently unfolding on America's far right as it is of the Red Scare that colored its writing in 1953. Revisiting the classic tale of Puritan paranoia, it's horrifying to realize how little things seem to have changed since 17th-century Salem.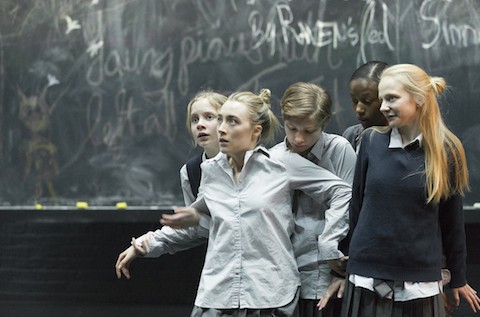 The parallels are made plain by the bold and broad strokes of van Hove's characteristically avant-garde production, which sets the drama in a world apart from time, contained it what feels like a cross between a classroom, a ministry, and a prison rec room (the set is designed by Jan Versweyveld). Much as he did with Miller's A View From the Bridge on Broadway last fall, and as he has done with numerous classic texts in previous downtown productions, van Hove brings his signature flair for Greek Drama (with a capital "D") to the story.
The basics: After a group of girls is caught dancing in the woods at night, one of them falls into a coma-like state. Rumors of witchcraft rile up the town, and Abigail Williams (a ferocious Ms. Ronan), the original Heather if there ever was one, tells the rest of the clique to stay mum about what really went down. When Tituba, a slave woman who danced with them, confesses to communing with the devil and accuses other townspeople of being in his pocket, Abigail follows along and leads the gang in pointing fingers.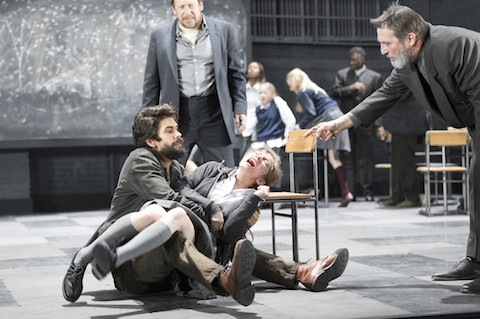 Abigail has an ulterior motive, though. One of the women she accuses is her former employer, Elizabeth Proctor (Sophie Okonedo, delivering a heartfelt performance amidst much Sturm und Drang), who fired Abigail after discovering the girl was having an affair with her husband John (Whishaw, serving martyred hipster with a heart of gold). Abigail's replacement at the Proctors, Mary Warren (Tavi Gevinson, proving her versatility as an actress), gets caught in the crossfire, eventually siding with Abigail because, really, no one f**ks with Heather.
Van Hove's production is stylized to a fault and includes several moments of visually stunning stagecraft over the course of its nearly three-hour runtime: fleeting visions, climactic revelations, a slinking, wolf-like beast. The dowdy costumes (by Wojciech Dziedzic), cut in steely shades of grey, could easily pass for a cohesive, albeit drab and unflattering, fall/winter collection.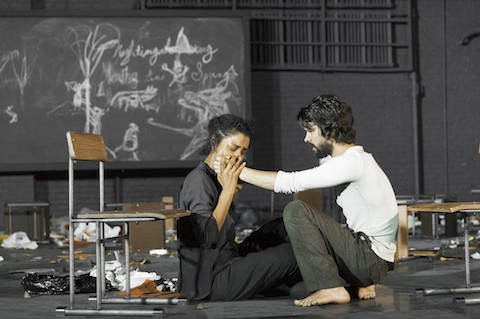 The icy, high-concept treatment throws certain of Miller's themes into dramatic relief. But it also tends drown out the subtlety of the human drama, leaving little room for the nuances that make the characters actually feel human. Here, Abigail is Conniving, with none of the desperate insecurities of a teenager. John Proctor is so Good and full of Remorse for his mistakes, it's hard to imagine him getting busy with a servant in the barn out back, despite the heat that Whishaw and Ronan generate simply standing next to each other.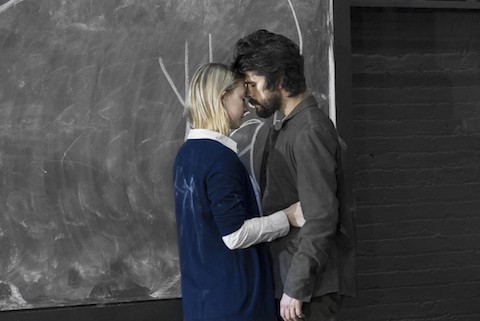 Maybe the most visceral example of van Hove's heavy hand is the production's relentless score (by Philip Glass, no less), which ceaselessly accompanies the action, distracting from quieter scenes and swelling to alert the audience to Dramatic Moments, robbing the action on stage of the chance to build up to them organically. Van Hove shovels on much food for thought, but there is a palpable sense of relief when the curtain drops, the music stops, and the audience once again has room to actually think for itself.
Follow Naveen Kumar on Twitter: @Mr_NaveenKumar (photos: jan versweyveld)