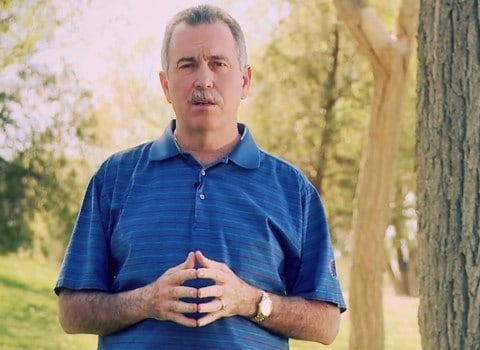 LGBT advocates in Lubbock, Texas, are outraged over a disgusting anti-gay ad from Mayor Glen Robertson (above).
Robertson is one of eight Republicans in the race to replace U.S. Rep. Randy Neugebauer, R-Texas, in Congressional District 19. Last month, we told you how several candidates in the race were ganging up on retired Col. Michael Bob Starr, a favorite to make the runoff, attacking him for participating in military LGBT Pride runs while serving as a commander at Dyess Air Force Base in Abilene.
Last week, Robertson took the attacks against Starr to a new level, releasing a TV ad (below right) alleging that the decorated officer is supported by "the same radical [LGBT] groups who want men to be able to use women's bathrooms."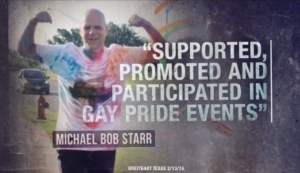 Robertson once said he was open to the possibility of a nondiscrimination ordinance in Lubbock, and some LGBT advocates — including adorable PFLAG mom Grace Rogers — even supported his campaign for mayor.
"I never, never dreamed that Mayor Robertson would take that information and put it into a smear ad, how disappointing," Rogers told EverythingLubbock.com. "Gay people are simply people, they want to be treated with equality [and] with dignity, the [gay] people that I know are some of the best people in Lubbock, they are doctors, teachers, lawyers and shop owners. And some of us who are their allies have voted for Mayor Robertson, and we thought that we voted for someone that was not bigoted and — I'm sorry — I consider that ad to be bigoted. Hate and bigotry, to me, are not West Texas values, they're not American values, so let's talk about issues."
Army Reservist Katie Miller, an out lesbian who attends Lubbock's Texas Tech University, called the ad "childish" and said it could halt recent progress on LGBT issues at the school. Another gay Texas Tech student, Reese Ramsey, said he grew up on a cotton farm and his family has lived in the area for several generations. However, Ramsey said the ad makes him "not want to stay."
"Me and my boyfriend, there's been instances where I don't feel safe holding hands with him in public. My car has been vandalized multiple times," Ramsey explained. "This anti-gay rhetoric that's being sprung out from all these candidates, creates a fear and discrimination against the LGBT community here in Lubbock."
Fortunately, Robertson has said he'll step down as mayor later this year regardless of the outcome of today's primary. Good riddance.
Watch EverythingLubbock.com's report here, and watch the ad below.