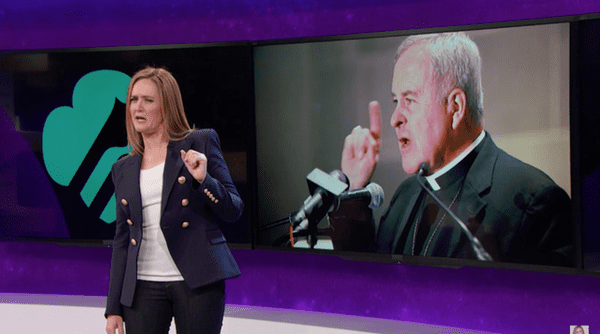 Samantha Bee took aim at St. Louis, Missouri Archbishop Robert Carlson Monday night over his call for pastors to cut ties with local Girl Scouts troops. Carlson issued the call because the Girl Scouts of America supports abortion rights, contraception, Amnesty International and feminist icons like Gloria Steinem.
Bee excoriated Carlson, saying, "I'm not sure the archbishop who released this statement…is the best person to judge what you do with your body." And that's because there is sworn testimony of Carlson telling prosecutors that he didn't know child molestation was a crime. That testimony was given in connection to an investigation of former Father Thomas Adamson who was accused of sexually assaulting children.
More on the backstory of that case from RawStory: 
Adamson met with Carlson in 1980 while both men worked under the Archdiocese of St. Paul and Minneapolis. At the time, Carlson handled sexual abuse cases for the archdiocese, but Adamson's crime was never reported.
"You knew it was a crime for an adult to engage in sex with a kid," a prosecutor can be heard saying in footage of Carlson's testimony.
"I'm not sure whether I knew it was a crime or not," Carlson responds.
Bee mocked Carlson, saying, "Is child molestation a crime? Who knows! But I'm positive Jesus hates your diaphragm."
She also made sure that he would not get the last laugh: "If you think we're going to let you financially hurt the Girl Scouts of eastern Missouri, you have underestimated our love of girl power. And our love of cookies." Bee then revealed that her show had bought a mountain of Girl Scout cookies.
Bee urged people to buy cookies in support of eastern Missouri Girl Scouts (which are for sale on her website). Said Bee,"You can eat your cookies…or just throw them at a passing archbishop. I'm not sure if I know whether that's a crime or not."
Watch below: