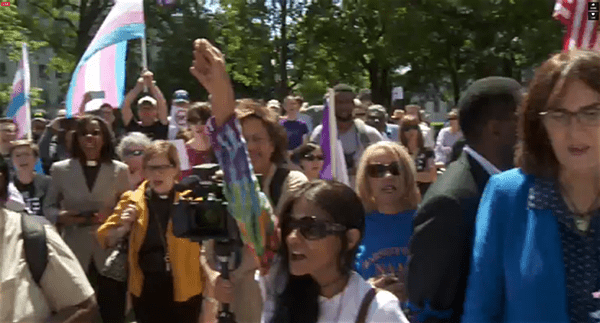 Underway now, is a mass protest in North Carolina by activists opposed to the anti-LGBT HB 2, dubbed "hate bill 2" by protestors.
Earlier today, Democratic lawmakers in the state introduced legislation that would repeal HB 2.
Republican Governor Pat McCrory has been the target of sustained pressure from human rights and business groups opposed to HB 2.
Watch the protests live HERE.
Developing…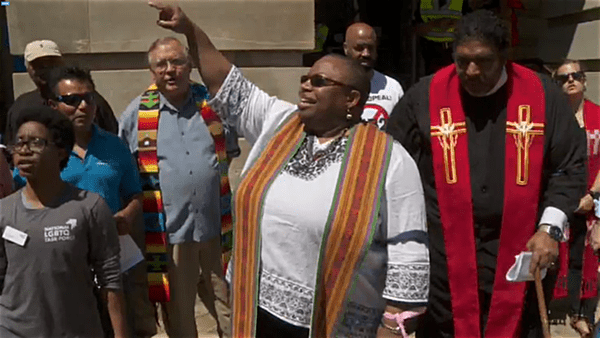 Bri Sanders of the Task Force "It feeds my soul to come together across difference to #RepealHB2. Fear to hope!" pic.twitter.com/OL0zjNvv7q

— TheTaskForce (@TheTaskForce) April 25, 2016
Earlier on Monday, 15,000 petitions calling for the repeal of HB 2 were delivered to the office of Gov. Pat McCrory. Said one protestor as the petitions were delivered, "Special delivery, Pat!"
Via a press release via TurnOUT! NC, a joint project of the Human Rights Campaign, the ACLU of North Carolina, the Campaign for Southern Equality, and Equality North Carolina, whose goal is to mobilize and empower LGBT and pro-equality North Carolinians against HB 2:
More than 150,000 signatures demanding the repeal of North Carolina's anti-LGBT House Bill 2 were delivered to the office of Gov. Pat McCrory today by a collection of civil rights, faith, business, and advocacy groups as the state legislature returns for the first time since it introduced and passed the law limiting legal protections for gay, lesbian, bisexual, and transgender people in a one-day special session on March 23. Thousands of people are expected to rally for the discriminatory law's repeal outside the legislature throughout Monday. […]
"It's time the legislature get to work repairing the damage it has caused with the passage of HB 2," said Sarah Preston, acting executive director of the ACLU of North Carolina, which is challenging the law in federal court along with the national ACLU and Lambda Legal on behalf of six LGBT North Carolinians. "HB 2 was a reckless attempt to malign and marginalize transgender people, and it is bringing immense harm to our state's people, economy, and reputation. The General Assembly must work as expeditiously as possible to repeal this terrible law as it worked to pass it."
"For more than a month, Gov. McCrory, Sen. Berger, and Speaker Moore have sat idly by as HB 2 has cost North Carolina millions, badly damaged their state's reputation, and inflicted irreparable harm on the people they were elected to serve," said Human Rights Campaign President Chad Griffin. "The catastrophe these leaders have created and the damage they have caused can only begin to be reversed by repealing HB 2 in its entirety and replacing it with commonsense non-discrimination protections for LGBT people. To do anything less would be to continue their streak of gross negligence. The time for leadership is now."
"HB2 is a blatant, unconstitutional attack on the transgender community in North Carolina and we call for its immediate repeal. We must come together as a community to organize and support each other to make North Carolina safe for all of its citizens," said Ivy Hill, LGBT Rights Toolkit Coordinator for the Campaign for Southern Equality.
"House Bill 2 is a deeply discriminatory bill that has put the most vulnerable people of our community at risk. This bill is a mess that Gov. McCrory and NCGA leadership have made for us. In a special session — in just 12 hours — they passed a bill without ever meeting the people that are directly impacted by the law — transgender North Carolinians." said Equality NC Executive Director Chris Sgro. "Over the last month, Business leaders, entertainers, advocates and everyday North Carolinians have mobilized and called for the repeal of HB 2. Sen. Berger, Speaker Moore, and Gov. McCrory can no longer ignore the havoc the bill has wreaked on the state. The only way to restore North Carolina's reputation is to repeal all of HB 2 and pass comprehensive nondiscrimination protections that protect all North Carolinians."
Watch vide of the petitions being delivered, below.