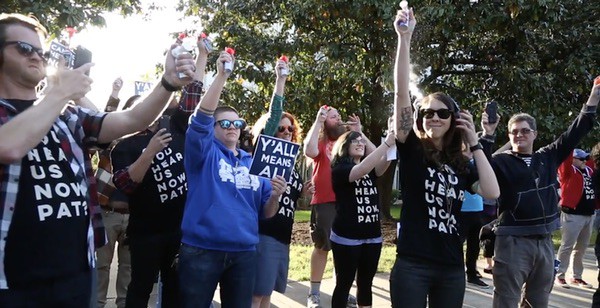 Demonstrators against North Carolina's anti-LGBT HB2 aren't letting up and last night demonstrated outside Governor Pat McCrory's mansion in their noisiest protest yet, using an "orchestra" of air horns, trumpets, and bugles, the News & Observer reports:
About 100 opponents of House Bill 2 gathered, many of them wearing black T-shirts that said "Can you hear us now, Pat?" They stood on two sides of Gov. Pat McCrory's home and set off a cacophony for about 10 minutes before the air horns ran out of steam.
While most protesters brought air horns, one man played a trumpet and another played a penny whistle. A single supporter of the law stood silently in the middle of the ruckus holding a sign that criticized gay people.
Organizers Grayson Haver Currin and Tina Haver Currin, writers who live in the adjacent Oakwood neighborhood, said they came up with the idea as "performance art."
Protesters were also prepared with a copy of the city's noise ordinance, which apparently says nothing about air horns.
Watch:
This. Is. So. Loud. #HB2 #airhornprotest #ncpol pic.twitter.com/SQtugghoh1

— Colin Campbell (@RaleighReporter) April 13, 2016