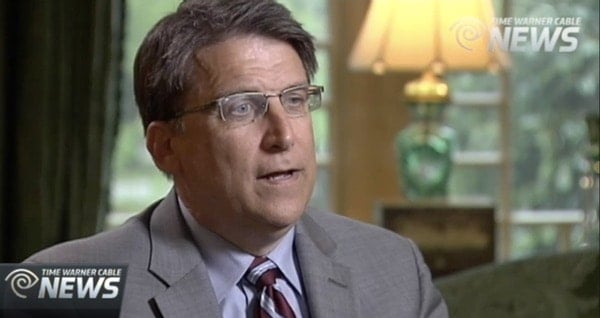 Following Tuesday's announcement of an executive order "clarifying" North Carolina's "religious freedom" bill HB2 in what was seen as a desperate attempt to counter the backlash the state faced, Governor Pat McCrory has taken a dig at "powerful interest group" Human Rights Campaign (HRC).
In the interview with Time Warner Cable News, McCrory expresses surprise that HB2 "continues to be a topic":
"HRC is one of the most powerful special-interest lobbying groups, well-funded, in the United States of America. And they have put their total forces, for whatever reason, on North Carolina – not Texas, or Houston, Texas, which overturned the exact same law with 61 percent of the vote, and just had the NCAA championship – and I didn't see your [TV] station or anyone else – Time Warner – boycotting Houston, Texas. Or even threatening to boycott Houston, Texas. So, there could be a little bit of politics, selective politics, in some of these national-wide efforts…It is absolutely amazing that this continues to be a topic and I frankly think this very powerful interest group will continue to make it a topic because that's their agenda."
In the 18 minute interview, McCrory continues to fudge the issue by claiming that HB2 relates only to transgender "bathroom laws." He adds that the Charlotte, NC nondiscrimination order "wasn't needed…the minute Charlotte started doing this and then other cities started talking about it, the state needed to step in to change a basic common sense philosophy, you know what, we shouldn't have that."
When asked why he thinks it's acceptable to fire someone because of their sexual orientation, he explains:
"The federal government does that right now so our standards are much stronger than the federal government. I don't believe anyone should be discriminated against but I also don't believe government should be writing employment policy for every corporation throughout the state of North Carolina…I don't know of any signs in any windows [discriminating against LGBT people].
"What we need is dialog instead of threats. You haven't seen me out here protesting, even with people I agree with because what I've been doing is working on a common sense solution…With this issue, with the letters and the threats and the boycotts, I don't see conversation. I don't even see people reading things before they threaten to boycott."
Last month, LGBT rights activists including Chad Griffin met with McCrory to deliver a letter signed by more than 100 business leaders urging McCrory to repeal HB 2. 
You can watch the interview via Time Warner Cable here.