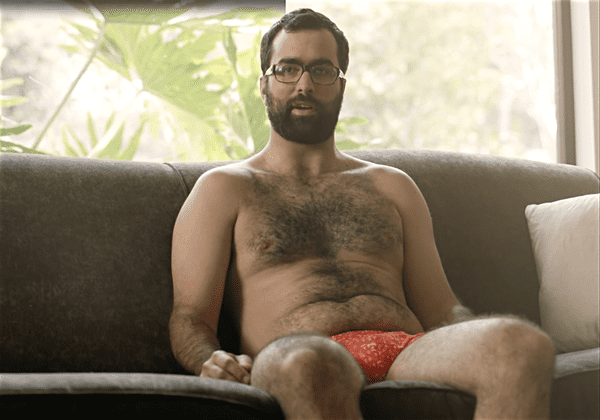 Last month, we told you about a new body-positive men's underwear campaign from American Eagle.
The company was reportedly launching a men's version of their Aerie collection, which heretofore has been exclusively for women.
Now it turns out it was all a big joke. Because April Fool's apparently starts weeks in advance of April 1 and uses conversations about body-positivity as a punchline. The company reportedly has a history of pulling pranks like this.
American Eagle Outfitters proves once again they're not afraid to take a risk and have a laugh in support of a good cause. Following the successes of the Skinny Skinny Jean in 2013 and American Beagle Outfitters in 2014, the brand reveals today its #AerieMAN campaign, featuring a mix of quirky characters of different sizes and personalities sharing "real life" stories in their skivvies, was all in good fun to parody the #AerieReal campaign by Aerie, a leader in body-positive marketing. […]
The #AerieMAN campaign, which sparked immediate online chatter and debate, challenged how brands market to the male customer, and portrayed a lighthearted, creative interpretation of the #AerieReal message, a body-acceptance movement launched in 2014 where Aerie, the lingerie and apparel brand from American Eagle Outfitters, stopped retouching its models. In addition to making the pledge to eliminate retouching its male models in its underwear and swim images, American Eagle Outfitters has donated $25,000 to the National Eating Disorders Association, a non-profit that supports those affected by eating disorders and an ongoing partner with Aerie. For more information on NEDA, please visit www.nationaleatingdisorders.com.
"We aren't afraid of being bold in how we engage our customers, whether through a video that makes you think twice, or challenging the norm in how a brand markets to men," comments Chad Kessler, American Eagle Outfitters Global Brand President. "We are an all-inclusive brand and we know our male customers respond to humor. We look forward to continuing to innovate and evolve the American Eagle Outfitters product offerings."
While it's commendable that AEO donated to NEDA and wanted to start a conversation about positive body image among men, launching a faux campaign only to pull the rug out from underneath people by calling it a "joke" and an "April Fool's" prank undermines the message the company is allegedly trying to push.
Next time, if you want to start a conversation on being body positive, try not making men with less than perfect bodies the butt of your joke.