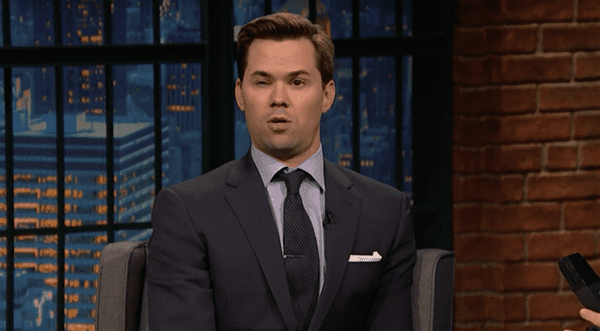 Andrew Rannells had a bit of an awkward moment when he got to meet President Obama.
The actor was on with Seth Meyers on Thursday night talking about his time working on the Broadway musical Hamilton. Rannells took over for his buddy Jonathan Groff while Groff was off filming the Looking movie.
Though only a part of the production for a five week stint, Rannells got to meet President Obama after he attended a performance of the show. After planning to mention that he met Obama's daughter Malia while she was an intern on the show Girls, Rannells was caught off guard when Obama preempted him, saying he recognized him from watching the show.
Said Rannells, "I just had a full meltdown. 'He watched the show, he knows who I am. So he's seen me naked. That's weird.' I was just thinking all these things. And then I looked at the cast, and the whole rest of the cast was looking at me like, 'Why does the temp get more time to talk to the president than, like, the rest of us? He did nine minutes of work.'"
Watch Rannells tell the story, below.