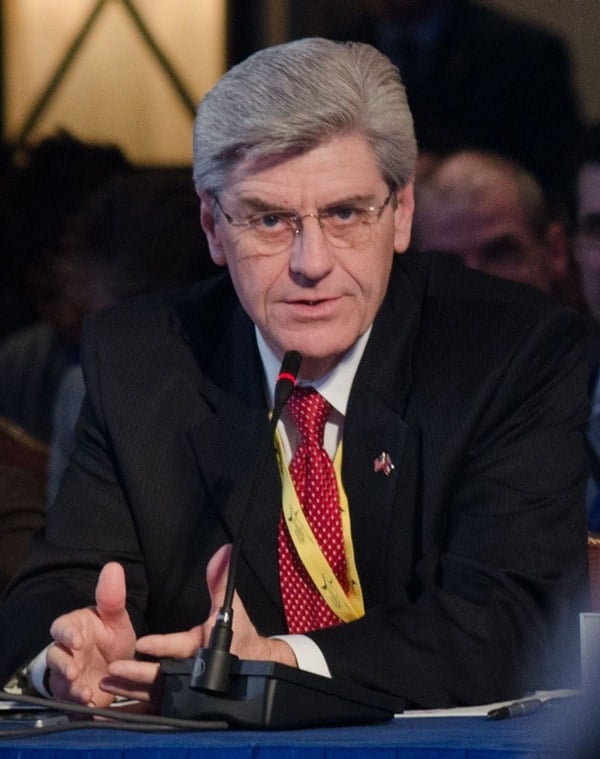 Mississippi Governor Phil Bryant has promised to "review" HB 1523, the anti-LGBT bill that has been called "the worst religious freedom bill to date" in the United States.
The bill passed the Senate earlier this week, following on the heels of North Carolina approving a similar piece of legislation.
Bryant has not officially said whether he intends to veto or sign the legislation. However, he has previously stated that he does not find the bill discriminatory.
Spokesman Clay Chandler isn't saying Thursday whether Republican Bryant will sign it. However, he signed a similar 2014 bill saying government cannot put a substantial burden on religious practices.
Mississippi is one of 10 states with bills responding to last summer's U.S. Supreme Court ruling that effectively legalized same-sex marriage.
Nissan North America has 6,000 workers in Mississippi. Company spokesman Josh Clifton says Thursday in response to questions about the bill that it opposes "any legislation that would allow discrimination against lesbian, gay, bisexual and transgender individuals."
The bill will likely not reach the governor's desk until next week as it must go back to the House for a concurrence vote, as BuzzFeed has reported: 
The House must vote only once to concur, thereby sending it to the governor, because the House already passed a slightly different version of the bill by a 80-39 vote in February. The concurrence vote is expected early next week.
Some more background on the content of the bill:
Specifically, House Bill 1523 would protect individuals, religious organizations, and certain businesses who take actions due to their religious objections to same-sex marriage. It would also protect those who object to transgender people. The bill says they could not face government retribution if they were acting based on "sincerely held" religious beliefs.
Further, it covers those who decline for reasons of faith to provide counseling services, foster care, and adoption services — even, apparently, those receiving government funding. Clerks who issue marriage licenses could also recuse themselves.