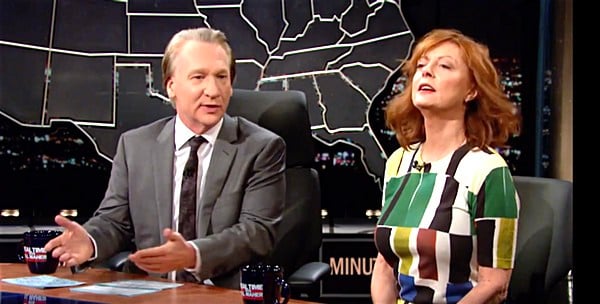 On Real Time with Bill Maher last night, Maher asked Susan Sarandon about the uproar that she caused when she suggested to Chris Hayes that if Bernie Sanders wasn't the nominee then Trump "bring[ing] the revolution" might be a better idea than voting for Hillary Clinton.
"I think a lot of people are 'sorry, I just can't bring myself to [vote Clinton]'…I don't know [what I'll do]. I'm going to see what happens. Some people feel that Donald Trump will bring the revolution immediately. If he gets in, then things will really explode. Some people feel that. If you feel it's pragmatic to shore up the status quo right now then you're not in touch with the status quo. The status quo's not working."
Sarandon told Maher that the statement didn't mean to suggest that she was voting for Trump. But she doubled down on her refusal to vote for Hillary.
"I'm not even admitting that she's going to get the nomination," said Sarandon. "I'm not going there, no."
Maher replied that while he's a Bernie supporter, he'll still vote for a Democrat any day over the Republican choices, and asked if she'd do the same:
"I have also been saying that if the airline cannot board your first choice, eat the chicken. That should be Hillary's slogan: Eat the Chicken. Are you going to eat the chicken?"
Replied Sarandon: "I'm a vegetarian."
Argued Maher: "I mean, the environment—great example. Hillary has an 82 percent voter rating from the [League of Conservation Voters]. Ted Cruz has 5! That's your choice in this world!"
Answered Sarandon: "I don't care [about] the [League of Conservation Voters]. She's been selling fracking all over Jersey."
"Yes, she's not perfect, but perfect is not on the menu!" said Maher.
Sarandon then went on to say that she can't speak the words at this point because she thinks Bernie will get the nomination. But she also thinks of Obama as a disappointment, that he" left the grassroots voters on the lawn of the White House."
Watch: