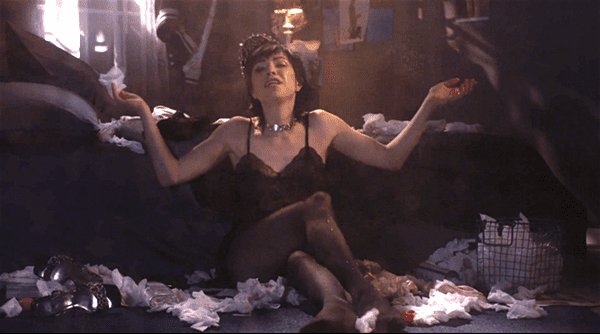 Carly Rae Jepsen has just released a new music video for her song "Boy Problems" and it's an 80s-infused glitter-goth treat.
Jezebel's Jia Tolentino has previously called the track "a beautiful song of gay discovery." Another (admittedly more basic) interpretation of the song would suggest that it's about those times when you can't stop talking about your 'boy problems'; problems that seem so grave the world may as well be ending. This take is given some credence in the music video–see: young girl dressed in wedding dress gets into casket and takes selfies. Of course, while you think the world is ending, your friends are sick and tired of hearing about it ('cuz they've got worse problems).
The video was shot in NYC and directed by Petra Collins, an artist and photographer.
Says Jepsen of the video, "Out of the blue, Petra reached out to ask if she could make a video for her favorite track of the album-Boy Problems. What she didn't know is that I had been following her online via Instagram and other outlets for a while and had become a HUGE fan of her photographs and artwork. I think she has a very gifted eye for a refreshing look at youth and beauty and the way she plays with color always stands out to me. So the answer was an immediate YES! We met that first day in New York and were giddy with creating something new together and I am so pleased for how the dark and glittery scenes we imagined turned out."
Watch: