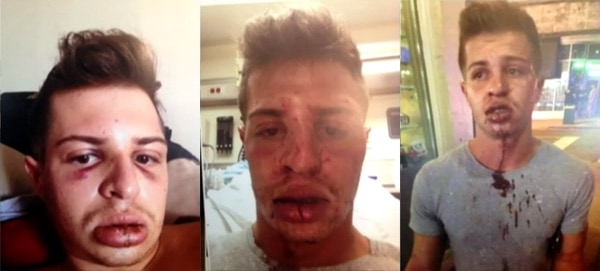 The claim put forth by a 25-year-old gay L.A. man that he was the victim of a vicious anti-gay hate crime at a Miami Beach Burger King may just be a giant whopper.
Jordan Schaeffer (above) says he was brutally beaten and called gay slurs after kissing his boyfriend.
Schaefer previously spoke with WTVJ Miami about the incident, saying,
"It was just a simple kiss with my boyfriend. And then right after that kiss, I started walking over and that's when I was approached by this gentleman. He then started to use derogatory terms such as 'f**king faggots. Why don't you show if you're tough or not you little faggot.' It all happened so fast once I got slammed to the ground. It's just kind of a blur.
Now, new reports have emerged from eyewitnesses that call into question the validity of Schaeffer's story. South Florida Gay News reports:
Tim Baird, who posted on social media about the incident, said via a Facebook post he witnessed the altercation, and the story being told by Schaeffer and [his boyfriend Eric] Danko is "completely inaccurate."
"As we saw it, he is mainly responsible for the fight, and the altercation had nothing to do with his sexual identity. I've already contacted the Miami (Beach) police to offer my perspective, if they want it," Baird said.
Miami Beach PD spokesman Ernesto Rodriquez confirmed that they had been contacted by Baird, who was also visiting from Washington D.C., and that department LGBT liaison Juan Sanchez had reached out to him for additional information.
"We only have one side of the story," Rodriquez told SFGN. "We are looking to identify the attacker or attackers but to also get another side of the story. We encourage people to come forward."
Baird also reportedly said of the incident, "[Schaeffer] actually instigated a fight with me…[he] was trying to pick a fight with anyone that would engage. He just seemed very angry from the get-go. The other guy came over to calm him down and [Schaeffer] turned to him aggressively."
LGBTQ Nation spoke with another another eyewitness who corroborates Baird's version of events:
Joey Cooke from Nashville, Tennessee, agrees that Danko and Schaeffer had been arguing all night and seemed intoxicated.
"The story Jordan is giving is completely false," Cooke told Bilerico Report in an exclusive interview. "He was fighting with his boyfriend the entire night. They were in the bathroom at Burger King and when Jordan came out, he started crap with someone else and talking about fighting. When the other guy got involved, Jordan continued to talk shit and threatened to fight him. He approached the guy to fight him and it didn't end up in his favor. There was absolutely no kiss involved and had nothing to do with being gay or a hate crime."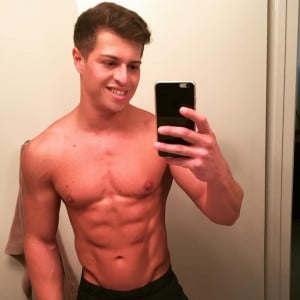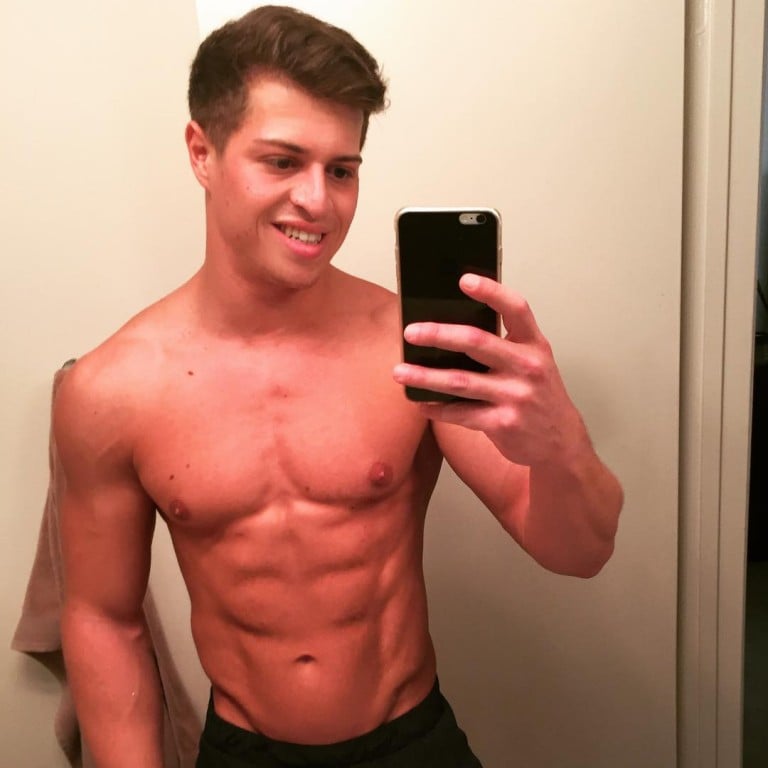 Instead, Cooke says Schaeffer, who works as an escort in Los Angeles under the name Jason Strick, was trying to make Danko jealous. "He was bragging about what his clients buy him and showing off his Rolex watch. He then started telling people that they can find him on rentmen.com," he said. "My partner is seen in the video standing against the wall. Jordan was soliciting himself to him and other people."
A profile available to rentmen.com under the name Jason Strick includes a photo [right] prominently displayed on Schaeffer's Facebook page. After media and police inquires earlier today, the rentmen profile was removed.
Schaefer also reportedly told police at the time that he was high on GHB, a party drug that is also known as a date rape drug. According to the CDC, symptoms of using GHB include both erratic and violent behavior.
Police in Miami say that Schaeffer and Danko were "uncooperative" when they arrived on the scene and would not allow their injuries to be photographed.
The incident is not officially being investigated as a hate crime at this time but police files note that Schaeffer and Danko believe the attack was hate-motivated.