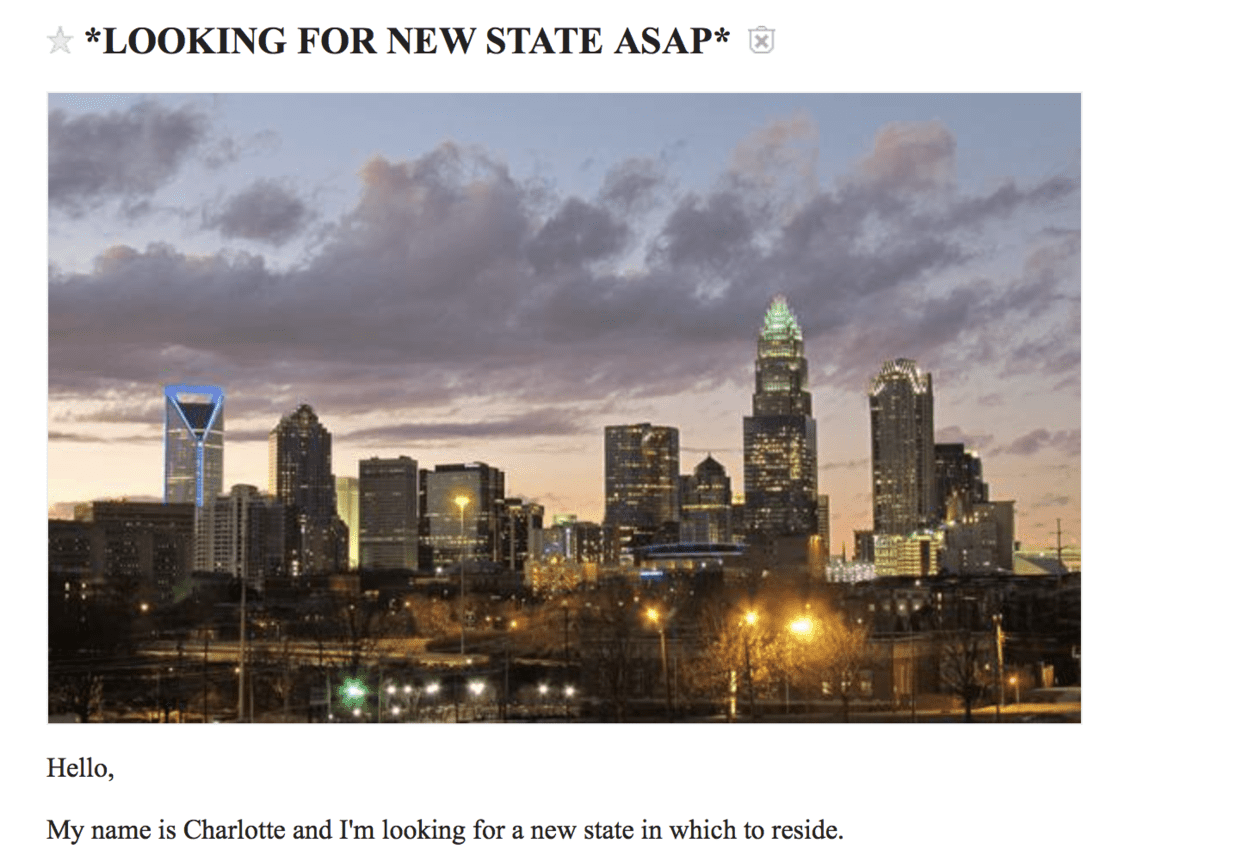 Charlotte, North Carolina is making plans to move to another state following the passing of a new law that allows religious to discriminate against LGBT people.
Ok, not really. However, someone has posted an ad to Craigslist from Charlotte (which has since been flagged for removal) asking for an adequate space "anywhere within the contiguous 48 states" for relocation.
The bill signed by Governor Pat McCrory prohibits transgender people from using appropriate restrooms, repealed all local LGBT ordinances, including Charlotte's, and prohibits any from being enacted.
Writes Charlotte in its Craigslist ad:
"Basic tolerance for other humans, regardless of race, gender or sexual orientation. By recognizing all people as having equal rights, I'm hoping to not only foster an environment of love/acceptance but also keep major events and not deter large national companies from operating here.
"As for me, I'm clean, attractive and accommodating. I have many independent sources of income and am constantly focused on improving myself to create a better tomorrow. Young people really take to me. I love sports – especially NASCAR – the financial industry, and hanging out in Freedom Park.
"Please let me know at your earliest convenience if you are a state with common human decency interested in adding me. Serious inquiries only."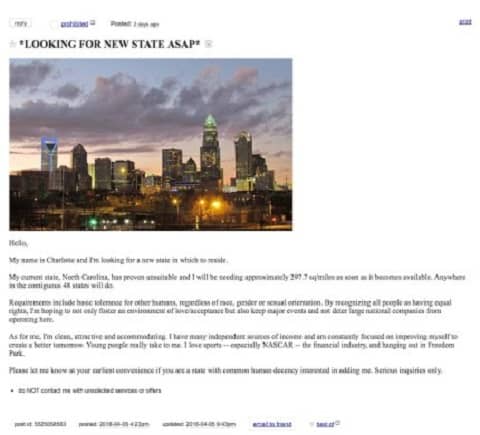 In response to the new law, Minnesota Governor Mark Dayton has banned official travel to North Carolina; companies including Hewlett Packard, PayPal, Pepsico, and Lionsgate have threatened to remove business from the state; and 269 authors including Phil Bildner, Katherine Applegate, Jay Asher, Chris Crutcher, Matt de la Peña, John Green, Ellen Hopkins, David Levithan, Patrick Ness, Jason Reynolds, and Jacqueline Woodson say they'll stop attending professional events there – except at bookstores.