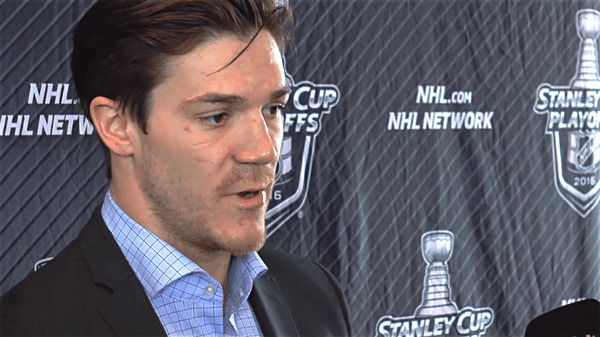 Chicago Blackhawks player Andrew Shaw will be suspended for one game and fined $5,000 for using an anti- gay slur during a match against the St. Louis Blues on Tuesday night.
Said NHL Senior Executive Vice President of Hockey Operations Colin Campbell, "While Mr. Shaw was apologetic and remorseful for both the offensive comments and the inappropriate gesture directed at the on-ice officials, he must be held accountable for his actions." He added, "The emotion of the moment cannot and will not be a mitigating factor for the conduct that is expected of an NHL player."
Blackhawks' Andrew Shaw suspended one game, fined $5,000. https://t.co/lU14DA5btn pic.twitter.com/P4n1RqmF4W

— NHL Public Relations (@PR_NHL) April 20, 2016
On Wednesday, Shaw spoke with reporters about the incident, apologizing for using the anti-gay slur. "That's not the type of guy I am," Shaw said. "I saw the video last night and I had a tough time sleeping. You know what's gotten to me is I let my emotions get the better of me," he told a group of reporters. Shaw added, "obviously I'm sorry. It's a tough time for me right now."
When asked by a reporter what he thought when he saw video of himself from last night's game, Shaw said, "It was hard to watch." Another reporter questioned whether Shaw planned to "eliminate that word" (that word being, "faggot") from his vocabulary, Shaw responded, "I'll never use that word again that's for sure."
Shaw also said of the slur, "It's 2016 now, it's time that everyone is treated equally. It's a hurtful word, I know that. I'm sorry and I want to apologize."
"That's not the type of guy I am." Andrew Shaw met the media before
departing for St. Louis.https://t.co/KsIvkN2rRy

— Chicago Blackhawks (@NHLBlackhawks) April 20, 2016
As previously reported, while in the penalty box on Tuesday night, Shaw flipped two middle fingers at a referee and reportedly shouted, "F—k you, you f—king faggot" at the same official.
When pressed by reporters after the game, Shaw said he didn't remember what he said:  "Emotions were high. I don't know what I said. I wasn't happy with the call."
Earlier on Wednesday, the Blackhawks issued a statement blasting Shaw:
"We are extremely disappointed in Andrew Shaw's actions last night. His comments do not reflect what we stand for as an organization. We are proud to have an inclusive and respectful environment, and to support various initiatives such as the You Can Play Project and the Chicago Gay Hockey Association. We will use this opportunity to further educate our players and organization moving forward, so that we all may learn from it."
Full statements can be found here: https://t.co/v9vgV9ChNJ

— Chicago Blackhawks (@NHLBlackhawks) April 20, 2016