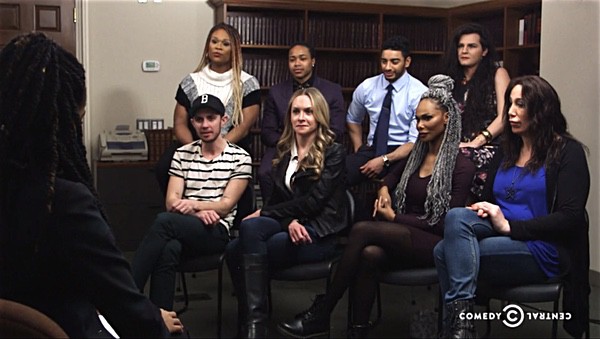 Last night, The Daily Show devoted its entire show to transgender rights, issues, and panic, covering the "bathroom bill" legislation going down around the country, interviewing trans rights advocates, and the discrimination and profiling that transgender people face on a daily basis.
Jessica Williams took a look at an incident we reported on here at Towleroad in which Meagan Taylor and her friend, both black transgender women, were on their way to a funeral and checked in to the Drury Hotel in West Des Moines, Iowa to stay the night. The hotel manager placed a call to 911. Police came and Taylor was arrested – for being a black transgender woman. She was in jail for 8 days.
Williams also sat down with phobe Gordon Klingenschmitt, the former Navy chaplain who is a vocal opponent of LGBT people. He believes that trans people are possessed by demons and is working to pass all the "bathroom bills" he can.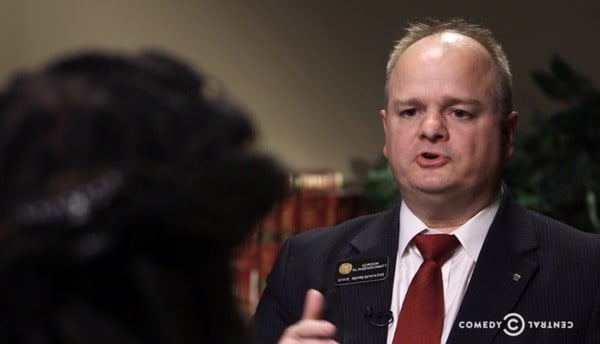 Williams offers a genius interview of this dude, asking, "is it fair to say that because you're a priest that you're a pedophile?"
Watch:
The show covered the anti-transgender legislation recently enacted in North Carolina and Kansas.
Finally, Trevor Noah sat down with TransTech Social Enterprises founder Angelica Ross, who explained how her organization creates a safe space for LGBT workers and educates the cis community on trans issues.