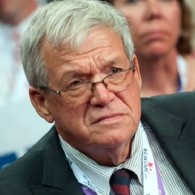 HASTERT. Alleged victim at heart of hush-money case sues the former GOP Speaker of the House for $1.8 million: "The lawsuit refers to the man suing Hastert simply as "James Doe," but the events outlined in the suit make clear he is the "Individual A" referred to in a federal indictment of Hastert last year for illegally structuring bank withdrawals and lying to the FBI. Hastert pleaded guilty to the structuring charge and is set to be sentenced on that charge Wednesday. In the new lawsuit, the alleged victim says he was 14 years old when Hastert sexually abused him at a motel on a wrestling trip he organized as a coach, leading to a lifetime of problems."
GOOD MORNING BALTIMORE. Jennifer Hudson and Harvey Fierstein join NBC's Hairspray Live. 
BEYHIVE. Beyoncé fans confuse celebrity chef Rachel Ray with designer Rachel Roy, who is allegedly "Becky with the good hair" alluded to on Bey's visual album, Lemonade.
NORTH CAROLINA. Protesters rallying against HB 2 arrested in North Carolina.
One arrested demonstrator gets carried out of the North Carolina General Assembly's building. pic.twitter.com/QOFnxfMLw3

— Alan Blinder (@alanblinder) April 25, 2016
An arrest in North Carolina. pic.twitter.com/PEa2v28g4n

— Alan Blinder (@alanblinder) April 25, 2016
The arrests related to H.B. 2 protests continue as the North Carolina General Assembly prepares to convene. pic.twitter.com/pUoZawNvIs

— Alan Blinder (@alanblinder) April 25, 2016
North Carolina House speaker's office now cleared of H.B. 2 demonstrators. More protesters sitting outside and chanting.

— Alan Blinder (@alanblinder) April 25, 2016
MALE MODEL MONDAY. Courtesy of Charlie Matthews. 
POLITICS. Donald Trump says he will disappear from the limelight if he loses the election: "I'm not sure you're ever going to see me there. I don't think I'm going to lose, but if I do, I don't think you're ever going to see me again, folks. I think I'll go to Turnberry and play golf or something."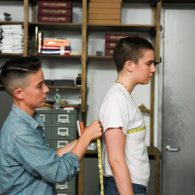 LGBT YOUTH. HBO celebrates new documentary SUITED about gender non-conforming and transgender youth from producers Lena Dunham and Jenni Konner with 'Get Suited' contest: "To enter anyone between the ages of 13-24 can upload a video on the site explaining their personal thoughts on fashion and identity. Prizes include a custom-made suit from Bindle & Keep (the Brooklyn-based tailor that is the subject of the HBO documentary Suited premiering in June), a trip to NYC, a meet with Lena Dunham (producer of the documentary), a $5,000 charitable donation, and more."
HEADLINE TURNING HEADS: "Beyoncé and Hillary Clinton: how two scorned women moved on."
ANTI-GAY BAKERS. Colorado Supreme Court lets stand lower court ruling saying anti-gay baker Jack Phillips violated anti-discrimination laws by refusing to bake a cake for a gay couple's nuptials: "The couple won in their complaint against Phillips in a 2013 ruling by the Colorado Civil Rights Commission. Phillips appealed, and in 2014 lost before the commission again. In 2015 the Colorado Court of Appeals also ruled against Phillips, finding there is no difference between discriminating against someone because they are gay and discriminating against someone because they are marrying someone of the same gender. Today, Phillips effectively lost again."
BELGIUM. Brussels Metro station debuts Remembrance wall honoring victims of terror attack.
Ce lundi, la station Maelbeek rouvrira ses portes. Maandag heropent Maalbeek de deuren. @STIBMIVB #Brusselstribute pic.twitter.com/UV4T2l8jcm

— PolBru (@zpz_polbru) April 24, 2016
INSTASTUD. Micah Marquez.
https://instagram.com/p/BEn4BOpTdcc/
https://instagram.com/p/BElI9CCzdfR/
https://instagram.com/p/BEerwivTdRn/