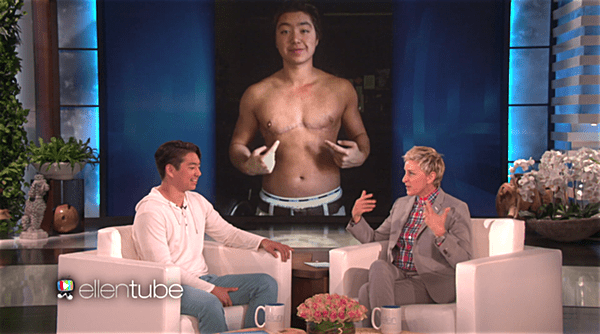 Ellen DeGeneres welcomed Schuyler Bailar as her guest on Monday, and Bailar shared his inspiring story of being the first male transgender athlete to compete as an NCAA Division 1 athlete in any sport.
In the moving and at times emotional interview, Bailar told DeGeneres that he always knew he was transgender but it wasn't until recently that he had the vocabulary to explain it to others. As a high school athlete, Bailar was a phenom in women's swimming. But Bailar also struggled with an eating disorder. While taking time after graduating high school to try and deal with that disorder, Bailar also came to terms with being transgender.
Bailar said he had a realization during that time: "I don't think that I hate my body because of how it looks…I didn't like it because it didn't represent the gender that I feel."
DeGeneres cheered and celebrated Bailar, saying, "All I'm going to do is to continue to tell you how proud I am of you." She added that she encourages schools and teachers to be "as open and kind" as Bailar's family has been to him.
Watch the video, below.