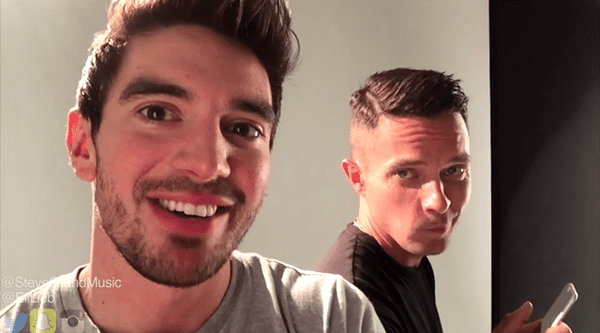 Or at least that's what Steve Grand wants you to believe.
In two behind-the-scenes videos from the music video for Eli Lieb and Steve Grand's song "Look Away", Grand tries to put words in Lieb's mouth about what he thinks of the 'All-American Boy.' The only moniker Lieb actually gives him is "dirty" (and actually, it was something Grand said that Lieb labeled dirty, not Grand himself).
In case you missed the collaboration between these two talented song birds, you'll want to check out their emotional and stripped down power ballad which we debuted here on Towleroad.  As of this posting, the video has been viewed over 230,000 times.
Prior to the debut, Lieb revealed to us that much of the emotion which came through in the video was influenced by what was going in his personal life at the time they shot the video. Said Lieb,
"We filmed this the day after my boyfriend and I broke up, and the footage is so real and raw, that I struggled if I even felt comfortable putting it out. I wasn't sure I wanted everyone to see the pain I was in."
The BTS videos posted by Grand give a little more insight into Lieb's frame of mind, and also show the goofy chemistry these two have. They are definitely opposites in many ways — style, personality, vocals, etc. — but when paired together they complement each other well. While Lieb is more soft-spoken in the two BTS videos, Grand plays the role of court jester, constantly trying to instigate some faux drama for a few chuckles.
You could also say that Steve is a little bit country, and Eli is a little bit rock and roll. Never mind, I already regret that.
Watch the duo's dynamic unfold, and see how their video for "Look Away" came to be, below.
https://www.youtube.com/watch?v=SlBqAJqxQ70
https://www.youtube.com/watch?v=6KyVHpjE3pw&feature=youtu.be