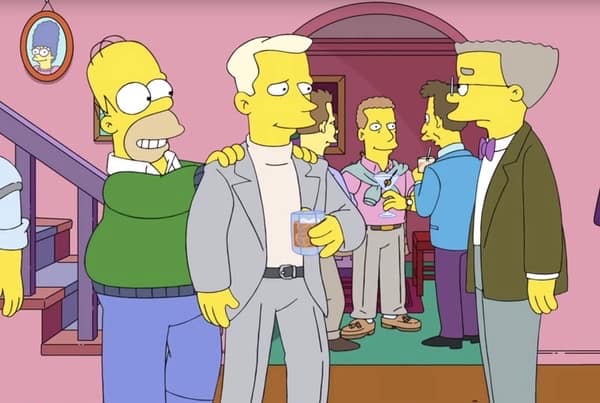 As expected, Smithers came out on The Simpsons last night, by walking into a party planned by Homer Simpson.
ABC News reports:
Smithers…is the longtime personal assistant and bestie of Mr. Burns, also voiced by Shearer, the maniacal head of Springfield's nuclear power plant, where Homer Simpson works. Smithers decided to come out of the closet in an episode titled "The Burns Cage." After he and Burns went skydiving, Smithers realized the love he has for his boss was unrequited.
Frustrated, Smithers took it out on his employees, including Simpson, who is voiced by Dan Castellaneta. To get back in their boss' good graces, the employees decided to help find a man for Smithers to date. The three take to Grindr to invite the town's gay guys for a soiree at Simpson's house.
But when Smithers walked through the door, he saw through his employees' plan. "I see what's going on here," he told Simpson. "Fix up your boss so he won't be so hard on you."
Smithers ended up with a guy from the party named Julio, for a time, until Julio realized Smithers still had a thing for Burns, and then went back to the company, where it appears, as ABC News notes, the "bromance" will continue.
Here's the show's opening:
June Thomas at Slate isn't amused. Says Thomas in a piece titled, Why Won't The Simpsons Let Smithers Say, "I'm Gay"?
It seems odd and a little sad…that Smithers wasn't really allowed to come out. It's great that so many of Smithers' friends and neighbors understand that he's gay and want to help him find a boyfriend. It's just too bad the show's writers don't seem to realize the psychological cost of forcing him to stay silent about an important part of his identity. Look again at the video above. There's real pain in Smithers' eyes when Mr. Burns prevents him from telling him something important that he really wants to share. It's all very well to outfit Smithers in the symbols of gayness—cute rainbow parachute!—but it's cruel of The Simpsons' writers not to let Waylon Smithers control his own narrative.
And Daniel D'Addario at TIME says the episode shows "how toothless the show has become:"
The episode of The Simpsons sought to win citizenship points for expressing a good and laudable point-of-view: If more people believed that gay people deserve to be treated as equal to the rest of humanity, the world would be a lovely place! But there was little tension in this saggy, baggy episode of television, and less humor. Homer and Marge, opening their home to a gay mixer for Smithers's benefit, had no opinion of anything that happened in the episode other than that it was all wonderful. None of the guests get anything to say; the show's take on as easy a target as the gay-dating app Grindr is to acknowledge that it exists.
And the episode's fundamental lack of imagination about ways to portray gay life onscreen can be summed up with one detail: The guy Smithers ends up with is a fiery, lispy Latin bartender cut from the same cloth as Simpsons star Hank Azaria's character in the 1996 movie The Birdcage. If you're in need of a second, George Takei was a guest star, playing himself.
What did you think?