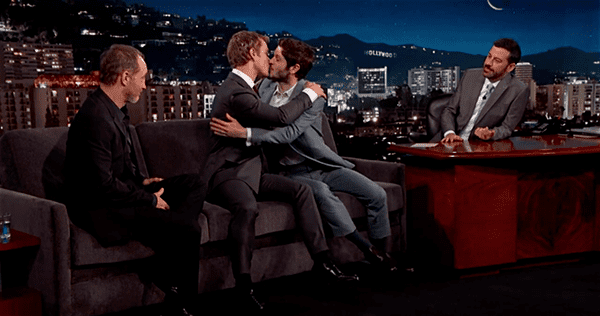 If you're caught up on Game of Thrones, you know that Theon Greyjoy (Alfie Allen) and Ramsay Bolton (Iwan Rheon) have had a cutting relationship.
However, the visceral history between the two characters does not seem to have soured the relationship between the two actors.
Allen and Rheon appeared on Jimmy Kimmel on Tuesday night to debut a new clip from the season 6 premiere (which hits this Sunday) and proved there are no hard feelings between the two.
"You know what would be a really nice thing and sell this whole idea that this is actually acting," Kimmel said. "We've seen so much unpleasantness between the two of you, if you were just to hug between the two of you, I think it would be really sweet."
Rheon, however, took things a little further by planting a kiss on Allen. He said he "couldn't resist!"
Watch as the boys kiss and make up, below.
https://www.youtube.com/watch?v=o2ZXOV7lA38