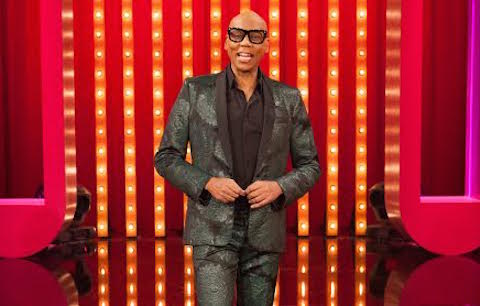 Since its debut in the second season of RuPaul's Drag Race, The Snatch Game has become a fan-favorite tradition. The homage to classic game shows was the perfect place to showcase host RuPaul's talent for turning a phrase and his encyclopedic pop culture knowledge. Tonight, with the premiere of Ru's new project, Gay For Play, viewers will see if the formula is just as successful without the competing queens.
Survey says? It is.
A delicious double-decker of camp, Gay For Play borrows elements from Game Show Network fixtures like Hollywood Squares, Password and Pyramid, covers the proverbial brow in Elmer's Glue and pancakes on pounds of shimmering queer humor. Contestants are asked a battery of questions about pop culture and celebrities that test their knowledge of everything from IMDB credits to identifying Hollywood hunks solely on their butts. The resulting rapid-fire quiz show is double-stuffed with double entendre, packed with puns and, of course, features a bunch of underwear-clad men. The rotating panel of celebrities include familiar faces like Michelle Visage, Ross Mathews, Carson Kressley and other Drag Race staples, but, at the heart of it all is Ru.
With his gigawatt smile and irresistible laugh, it's hard not to enjoy Gay For Play as much as the host clearly is. When it comes to RuPaul, though, even the seemingly silliest moments are steeped in sage wisdom. Gay For Play doesn't just lovingly recreate beloved shows from the days of yore. It honors the medium that beamed folks like Charles Nelson Reilly and Paul Lynde into America's living rooms with a spectacle that proudly asserts its gay aesthetic at every turn. As Ru says in the show's intro, "You don't have to be gay to play, but it sure do help."
We spoke with Ru about the show, the jokes too twisted for TV, which presidential candidate he would want to be his bonus round partner and so much more. See what he had to say in our interview below!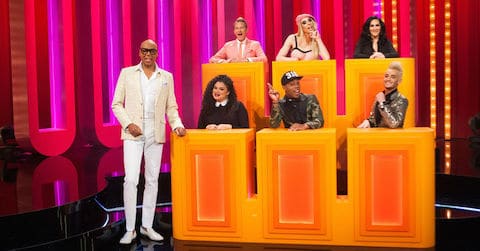 What drew you to the gameshow format?
I've always loved games. I've had game nights at my house for years and years and years. It's a great way to get to know people. It's a fast track into their intellectual DNA. Rather than have people come over and talk about what project they're working on, you give them a game, and you get to see what the f*** they're working with.
Any game night memories in particular reveal something about someone you weren't expecting?
Mostly what it reveals is their ability to solve problems, their ability to stick with it and their ability to be creative. That's the real litmus test of playing Charades, which is my favorite. Actually, we stopped playing Charades years ago, and have only exclusively played Dirty Charades, which is where you change a title, you can only change one word of an existing title, and you have to keep the exact same number of syllables. After you play that, there's no going back to regular Charades. One of my favorites is a TV show, Doctor Queef Medicine Woman. Or 20,000 Loads Under the Sea. You know, the Jules Verne classic?
Right, I think I did a report on that in middle school.
[Laughs]
There's something about that classic game show humor, all the puns and the double entendre. They would talk about 'making whoopie,' and make all these sort of sly gay references, and it feels like Gay For Play is really sticking to that kind of humor.
Absolutely. That's what we wanted to achieve. That's what we all grew up watching. We love the inclusivity of those stars and how cheeky they were. I love using the term 'making whoopie,' on Hollywood Squares with Paul Lynde or Charles Nelson Reilly on Match Game. They were so funny and so clearly smart and so clearly wink-wink, nudge-nudge at the status quo.
What's also interesting about game shows is that they were sort of the original reality TV in a lot of ways. We saw real people, and real gay people.
I have so much respect for those guys and Rip Taylor. All those guys who couldn't completely be 'Hey, I'm gay!' but they didn't change who they were to be on television. And everyone knew they were gay, and they presented themselves without apology. In fact, years ago, I met Charles Nelson Reilly, and he said he wrote me a letter — somehow it never got to me — but he wrote me a letter saying how proud he was to live in an era where an out gay man, black, whatever, could be a star on television. I thought that was so sweet.
In many ways, Gay For Play is honoring that legacy, but much more openly. The whole show is amped up. You've described it as the gay aesthetic done right by gay people. At a time when you can't go a day without hearing someone yelling "YAS KWEEN!" what are some of the things you think mainstream culture gets wrong about the gay aesthetic?
Well, the irreverence and the irony. It's easy to throw on an outfit or throw out a phrase, but if you don't understand where the irony is in it or where the irreverence is in it, then you're not using it the right way. You're still getting the cachet and the currency of using a word or phrase that's topical and makes you say, 'Oh look, you're clearly hanging out with gay people! Bravo!' But that person doesn't understand why that twist of a phrase is important. It's really saying none of this in this world is really that important. It's really saying don't take life too seriously. Play with words, twist a phrase, wink-wink, nudge-nudge. It's the only way to survive if you're super duper smart. Have words and life tickle you, otherwise it's just too mundane.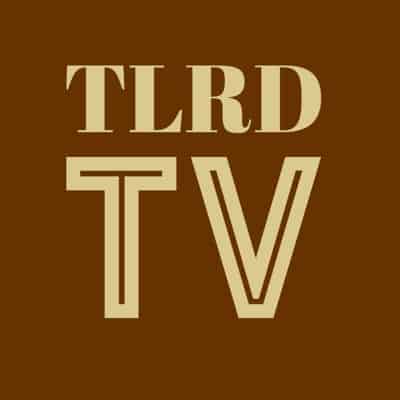 What's the writing process like for you and your team?
It's really the same for everything we do over here at World of Wonder. We are old friends, old, old friends. We've seen everything together, and all the references that we have come from the same source. So, if it tickles us, if it makes us laugh, then it's in. Especially if it's a little bit twisted.
Has there been anything too twisted for TV?
Oh yeah! Standards and practices will come around sometimes and say, 'You can't say felching.' [Laughs]
Who would be on your dream panel of celebrities, living or dead?
Paul Lynde, Charles Nelson Reilly, Rip Taylor, Judge Judy, Phyllis Diller, Totie Fields, Merv Griffin. I'd have Charo. I would have Kathy Griffin, and, oh!, Isaac Mizrahi, and how about Pamela Anderson? I could just go on and on. La Toya Jackson. Cher would be great on there. You know where I'm going with this thing. It's all people who have an opinion, who are funny, who know how to deliver a punchline. Listen, I got to tell you, I'm happy to do this show for the rest of my life with the panel that we have. I think they are so, so fabulous.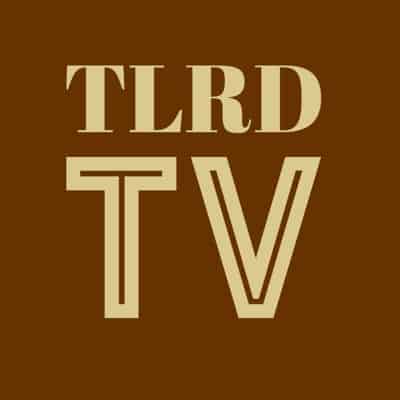 Which contemporary game shows are you a fan of today?
I watch Jeopardy every single day. I love it so much. It just keeps my noggin well-oiled. By the way, I get most of my Dirty Charades titles from Jeopardy. They'll go 'Dickens' book about whatever,' and I'll go, 'Oh my god! A Tale of Two Titties! That's brilliant!' It inspires me to come up with Dirty charades. [Laughs] … A Tale of Two Titties …
I would read that!
I would read that! You know, the greatest? The greatest Dirty Charade of all time — and I've played for years — but the greatest title of all time is a musical, a Broadway musical, and the title is Annie Get Your Cum.
Was that one of your creations?
Oh yes! Oh yes! Annie Get Your Cum.
Out of the current crop of presidential candidates, who would you choose as your partner in the bonus round and why?
I would choose Hillary Clinton because she is a smart cookie. She doesn't even let on as to how smart she is, because she knows most people are intimidated by that. But I would totally choose Hillary Clinton. She's so smart. She's got her intuition intact. I connect with women.
You have the album, there's Drag Race, Gay For Play is coming up, All Stars 2 down the road, what else is on your radar?
I've always got s**t on my radar. I've got tons of s**t. We've got DragCon coming up in a month. I've got a remix album coming up. We also have a RuPaul's Drag Race: The Rusical Soundtrack coming out, you know all of those "Dragazonian Airways" and the "Ru Cappella," all those are coming out on an album in the next couple of weeks. It is so good.
It's like Lucian Piane's masterpiece, his opus.
Exactly. That's coming up, and I've got Skin Wars coming up and Fresh Paint.
Any other books coming from you?
I'm preparing for my next book right now, actually.
Anything else you can say about that?
I can't say much other than that it's going to blow minds. It's more of a think piece.
Gay For Play premieres with two new episodes tonight at 10 p.m. Eastern on Logo.