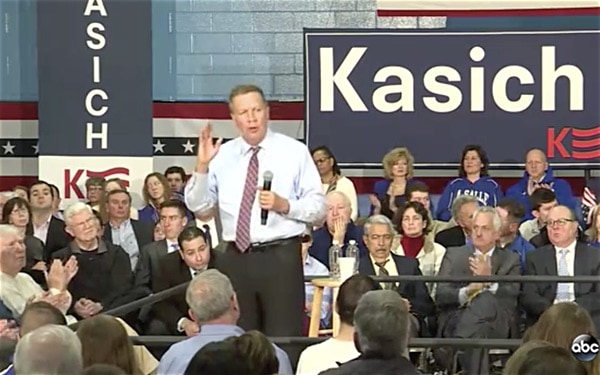 Campaigning in Troy, New York ahead of next week's Democratic primary, Ohio governor John Kasich was asked about the suicide of Leelah Alcorn, the Ohio transgender teen who took her own life by walking in front of a truck after her family had refused to accept her and pushed for her to go to "conversion therapy."
Kasich said he was not familiar with Alcorn, but took on the issue of marriage equality, LGBT rights, and the "religious freedom" bills springing up around the country.
Said Kasich:
"This is a very tough issue for people…we have all this legislation now that people are proposing…I am not in favor of discrimination. Period. End of story…The Supreme Court ruled in favor of gay marriage. I'm a traditional marriage guy but the court ruled. I'm allowing the court ruling to stand. I'm not looking for some constitutional amendment. It's done."
Kasich again used his "sell them a cupcake" story to explain his frustration over the "religious freedom" issue.
"The idea that we're just gonna sue one another for all these things and cause this problem. Things were going along quite well after the Supreme Court decision, so people were using this to some degree as a wedge issue…"
He added:
"When you get in the middle of [the religious liberty issue] there's no easy answer. So you know what I think? Let it go. Respect people that they are different than we are because that's just the way it is. And to get in this business of that I'm not gonna serve you because you're a certain way. Come on folks! We have to live together. What do we want, more laws? How about a little more tolerance, a little more respect."
Watch: