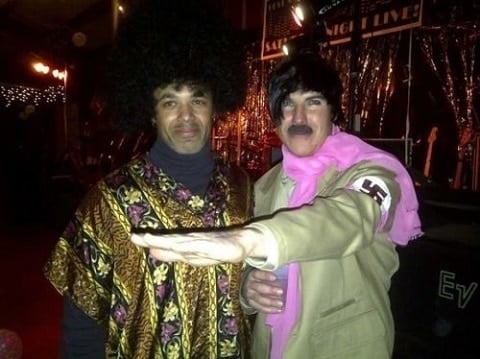 GOP Texas state Rep. candidate Kyle Biedermann (above right) has defended his decision to dress as "gay Hitler" for a party.
Seen in a photo taken about eight years ago, "Conservative, Christian Republican" Biedermann's Hitler costume – featuring a swastika on his arm and a pink sash around his neck – was for a charity event for a Fredericksburg food pantry.
According to the San Antonio Express-News, when asked to defend himself, the budding lawmaker said there is nothing offensive about the costume and that the backlash is "about political correctness." Despite saying that it is "not a problem," he has since removed the image from Facebook because "the incumbents – I mean my opponent, they would, you know, you know how it is, people are going to take it out of context…It's only a problem because somebody is running against me and is trying to hurt my character. It was never a problem before…My opponent wants to do sleaze things. This is what people hate about politics."
Kyle Biedermann right running to unseat Doug Miller R-New Braunfels, in TX House District 73 https://t.co/kDKnAxZgyW pic.twitter.com/1C0oQLQC2l

— Daniel Schein (@schein69) March 31, 2016
In an email to a potential supporter who questioned the costume, Biedermann said it was "supposed to be outrageous." He added helpfully: "I am not gay and never have been. Don't know anything about Swingers Clubs and no desire to find out. I have an amazing wife."
However, Dena Marks, associate director of the Anti-Defamation League for the Southwest region, said:
"We have consistently criticized any use of Nazi imagery like this because we believe it trivializes the Holocaust and is offensive to those who have suffered and perished at the hands of the Nazis."
Watch Biedermann explain how God supports his campaign below.
(Image via Twitter)