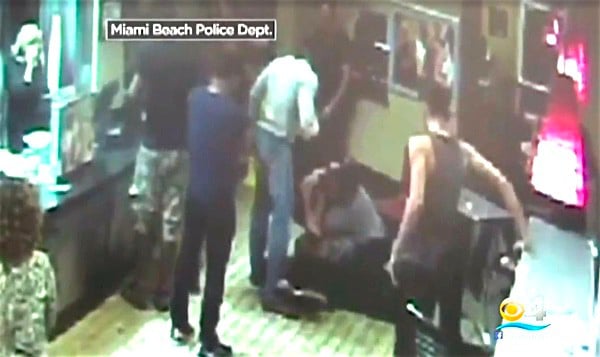 Jordan Schaeffer, a 25-year-old gay man visiting Miami Beach from Los Angeles, was brutally attacked on Monday at a Burger King because he kissed his partner, CBS Miami reports:
Miami Beach Police said the confrontation happened after Schaeffer and his partner, 25-year-old Eric Danko, engaged in a display of affection. The couple told police their kiss offended a man in a dark shirt and shorts, who confronted them and harassed them "using derogatory words."
"The subjects in this case happen to be gay individuals and that's part of our investigation to see what provoked that attack," explained Miami Beach police officer Ernesto Rodriguez….
…A police source close to the investigation told CBS4 the attacker in the dark shirt and shorts appears to be trained in some sort of martial arts or experienced in some sort of fighting. Schaeffer was left with lacerations to his lip and police are now pursuing the case as a felony battery. Miami Beach police are working with the state attorney's office – taking this attack seriously.
"The clear message we wanna give to visitors and residents of Miami Beach and Miami-Dade County for that matter is there is no place for hate here," Rodriguez said.
A surveillance video of the attack shows Schaeffer pinned on the floor of the Burger King while he's punched repeatedly. Another man stops  people, including Danko, from breaking up the attack.
The attacker was not apprehended and authorities are trying to identify both him and the man who was preventing the attack from being stopped. Anyone that may know who these guys are is urged to call Miami-Dade Crime Stoppers at (305) 471-8477.
Watch: