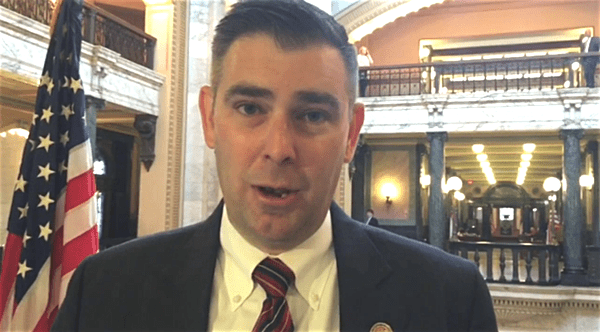 Mississippi Senator Andy Gipson (R) says that the horrific anti-LGBT HB 1523 is actually an anti-discrimination bill despite all evidence to the contrary.
However, Gipson has a perverted understanding of what constitutes discrimination. In Gipson's mind, forcing a county clerk to do their job and offer a marriage license to a same-sex couple is discrimination.
"We should not be intimidated, not buy into the April-fool's propaganda being disseminated by national media…This is an anti-discrimination bill…Anybody who says this is a bill to deny services, they're not telling the truth."
Gipson also compared the bill to the Supreme Court's ruling in Hobby Lobby, saying HB 1523 would protect "private businesses owned by people of faith, who have sincere religious convictions about particular issues." He added,
"In the same way that a private business can't be forced to violate their conscience by providing abortion pills or something like that, under Obamacare, the same type of protection applies to private business owner who has an objection to a particular type of marriage. So it gives that person protection from discrimination by the government – they can't be punished for failing, for saying that they cannot be involved in that ceremony."
Watch, below.
Meanwhile, HB 1523 has received the necessary concurrence vote in Mississippi's Republican-controlled House of Representatives. However, Democrats are making a last-ditch effort to stop the bill from reaching Governor Phil Bryant's desk. BuzzFeed reports:
The 69-44 vote was expected to send the bill, which already passed in the Senate, to the governor. However, later in the day, Democrats used a procedure to delay the bill by requiring another vote on Monday — seeking a motion to reconsider, largely considered a formality that buys time — before it can go to the governor's desk.