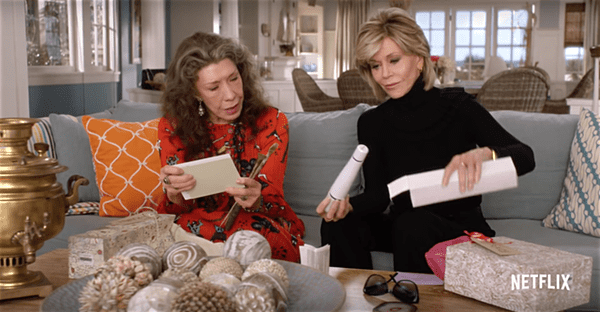 Grace and Frankie, Netflix's series about what happens when the husbands of two estranged friends leave their wives for each other, is returning for its second season.
The show which saw the onscreen reunion of 9 to 5 castmates and icons Jane Fonda and Lily Tomlin just dropped the trailer season 2. And it looks like the duo aren't going anywhere. While their characters begrudgingly moved in together after their husbands left them, they are now closer than ever.
Also the big cliff-hanger from the first season gets addressed right up front. And Grace (Fonda) finds herself a new love interest (not to mention a new sex toy–pictured above).
Watch and see what's in store in the new season, which you can binge starting May 6.
https://www.youtube.com/watch?v=rAcRVxj7h5I