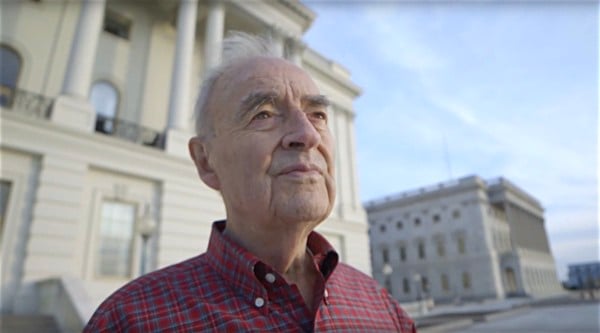 Former U.S. Senator Harris Wofford (D-PA), who was married to his wife Clare for 48 years until she died from Leukemia when they both were nearly 70, writes movingly of his love affair and the one that found him after she died. His more recent love affair, with 40-year-old Matthew Charlton, has been going on for 15 years, and they're about to "join hands, vowing to be bound together: to have and to hold, for better for worse, for richer for poorer, in sickness and in health, to love and to cherish, until death do us part."
Wofford met Charlton in a chance meeting on a Florida beach.
Writes Wofford in the must-read NYT essay:
To some, our bond is entirely natural, to others it comes as a strange surprise, but most soon see the strength of our feelings and our devotion to each other. We have now been together for 15 years.
Too often, our society seeks to label people by pinning them on the wall — straight, gay or in between. I don't categorize myself based on the gender of those I love. I had a half-century of marriage with a wonderful woman, and now am lucky for a second time to have found happiness.
Wofford, who was succeeded in office by Senator Rick Santorum, says he'll marry again on April 30. He says he never thought he'd see the day:
For a long time, I did not suspect that idea and fate might meet in my lifetime to produce same-sex marriage equality. My focus was on other issues facing our nation, especially advancing national service for all. Seeking to change something as deeply ingrained in law and public opinion as the definition of marriage seemed impossible.
I was wrong, and should not have been so pessimistic….
…Twice in my life, I've felt the pull of such passionate preference. At age 90, I am lucky to be in an era where the Supreme Court has strengthened what President Obama calls "the dignity of marriage" by recognizing that matrimony is not based on anyone's sexual nature, choices or dreams. It is based on love.
Congrats to the couple. May we all find our own happiness.
Here's a brief clip published in February about Wofford from the Corporation for Civic Documentaries: