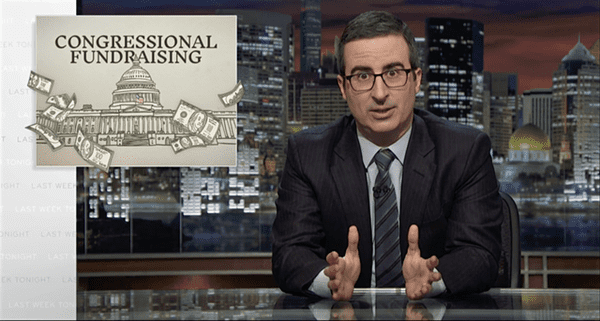 John Oliver took a deep dive into the fundamentally f*cked up and broken system of congressional fundraising on the latest episode of his show Last Week Tonight.
Oliver dug into the unseemly statistics that show just how much time congressmen and women spend raising money. Said Oliver, "The sheer amount of time politicians spend fundraising isn't just embarrassing. It's horrifying. Some say that members can spend anywhere from 25 to 50 percent of their time on it."
To highlight why that massive investment of time in dialing for dollars is so problematic, Oliver showed video of Sen. Chris Murphy providing a little background on his own experience fundraising. Said Murphy in the video sourced by LWT,
"For a Senate race, I'm not calling anybody who doesn't have the chance of giving me at least $1,000. … So you got to imagine that the people I'm calling are folks that are making half a million to a million dollars, and they have fundamentally different problems than everybody else."
To which Oliver responded, "That is a huge problem. Because it cannot help but affect the way you see the world if you're only calling donors rich enough that their main concerns are estate taxes or which Belgian kimono their cat will wear that day."
Oliver added, "While both sides agree they hate this, neither wants to unilaterally back down first." It's like the Cold War, Oliver said, except the Cold War actually netted some positive results like a man on the moon and the third best Rocky villain.
To close the segment, Oliver interviewed Rep. Steve Israel who announced he would be retiring from Congress by saying, "I don't think I can spend another day in another call room making another call begging for money. I always knew the system was dysfunctional. Now it is beyond broken."
Watch, below.