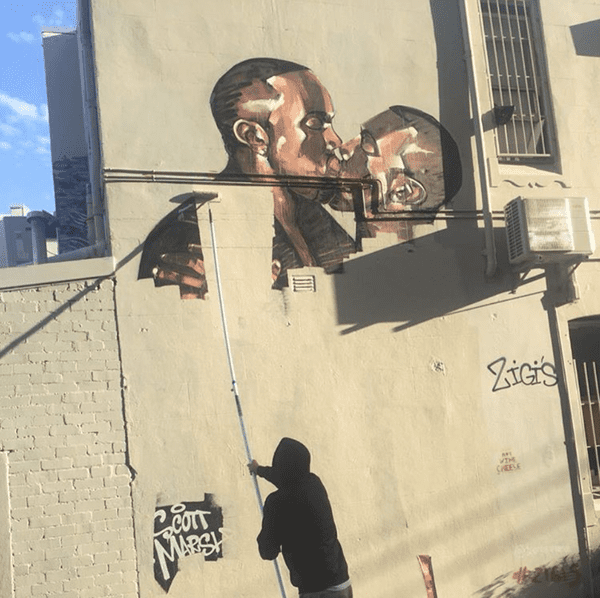 An Australian artist who painted a mural of Kanye West kissing and fondling a clone version of himself has reportedly been paid $100,000 to take it down.
The mural was painted by Scott Marsh and based on a picture of West kissing his wife Kim Kardashian West. It quickly became a popular destination to take selfies.
https://instagram.com/p/BD_2vzsQITx/
https://instagram.com/p/BDo61CZwIdo/?taken-by=scottie.marsh
The Sydney Morning Herald reports:
Scott Marsh painted a nearly seven-metre-tall mural of West kissing himself last month, on the side of a building in Teggs Lane, Chippendale and posted it to his 11,000-plus Instagram followers. It was based on a popular internet meme that West demanded be removed from the internet.
Marsh didn't stop at a mural though: it was part of his series, Kanye Loves Kanye, which reproduced the image in several forms. The showpiece was the mural but he also made three smaller versions, including a 1117mm x 1727mm print.
After Marsh reportedly received an offer of five figures from West's team to take down the mural, Marsh upped the ante:
Marsh created a web page offering a $100,000 package of "(1) Buffed Wall + (1) Oversized Buffed Archival Pigment Print on 310gsm Fine Art Paper + Documentation Video." In the graffiti world, 'buffing' means painting over or removing; in other words, Marsh priced the destruction of the mural and his largest print at $100,000.
https://instagram.com/p/BDr8urHwIRT/?taken-by=scottie.marsh
Marsh claims that someone took him up on the offer, but he won't specify exactly who. Meanwhile, some consider it a hoax.
In an Instagram post, Marsh showed the image of Kanye kissing Kanye buffed out. He wrote, "If anyone needs me I'll be at the #lordgladstone drinking from the topshelf".
He also says he has sold the print version attached to the $100k package.
https://instagram.com/p/BEDQ8wswIYn/?taken-by=scottie.marsh
He has painted over the original mural, as promised in the $100k deal.
https://instagram.com/p/BEAn0SIQIYv/
But he left the pinky finger.
https://instagram.com/p/BEArXJjwIeh/