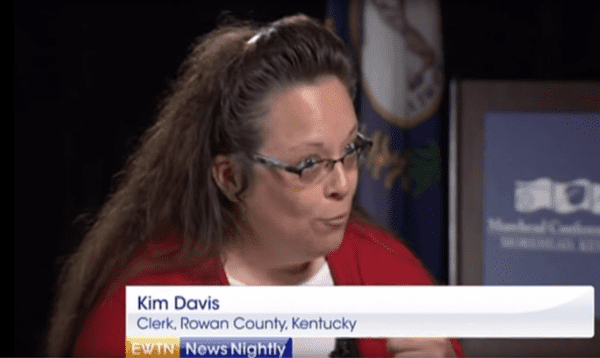 Kim Davis' lawsuit against former Kentucky Governor Steve Beshear has been dismissed by a federal court.
Davis, county clerk of Rowan County, Kentucky, had argued that she should not have to list her name on marriage licenses issued to same-sex couples by her office.
A federal appeals court has dismissed a lawsuit Kentucky Clerk Kim Davis filed against the state for requiring her to issue marriage licenses to same-sex couples that included her name. […]
The court dismissed the case saying Davis is not experiencing irreparable harm.
The ACLU's lawsuit is still pending.
Davis filed a lawsuit against former Democratic Gov. Steve Beshear and other state officials after she was compelled by state law to sign the marriage licenses against her religious beliefs. In December, newly elected Republican Gov. Matt Bevin signed an executive order removing names from the license forms.
"The revision of the official marriage license form eliminates any claim by Davis that she is suffering any serious or irreparable consequences as the result of the district court's order," the appeals court said.