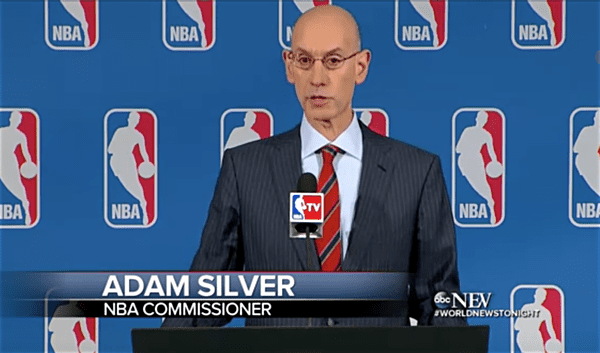 NBA Commissioner Adam Silver says that unless North Carolina lawmakers change or repeal the state's anti-LGBT bathroom bill, HB 2, the NBA will pull the 2017 All-Star Game from Charlotte.
Silver's announcement comes on the heels of public figures in the sports world including Charles Barkley and Bryant Gumbel calling on the NBA to take a firm stand against the bigoted law.
Silver previously said only that HB 2 is "problematic" and that it could have potential consequences for the the 2017 All-Star Game.
Silver has not said specifically how the NBA would like to see the law changed if it were not repealed outright.
The Charlotte Observer reports:
Silver's comments on the state's controversial House Bill 2 came at the Associated Press Sports Editors' commissioner meetings Thursday, according to attendees. Earlier in the day, Silver again called the law "problematic" for the league as it stands, but he said he's confident state lawmakers will "do the right thing."
"We've been, I think, crystal clear a change in the law is necessary for us to play in the kind of environment that we think is appropriate for a celebratory NBA event," Silver said at the APSE event.
And speaking on ESPN's Mike & Mike morning radio show, Silver said the NBA is more interested in working with local businesses and governments to effect change in the law, rather than in setting ultimatums about the 2017 All-Star Game, which is to take place in Charlotte.
"They know what's at stake in terms of the All-Star Game. But at least at the moment, constructive engagement on our part is the best way to go as opposed to putting a gun to their head and saying 'do this or else,'" Silver said.
Silver added,
"What's most important to this league is that there be a change in the law. It'd be easy to make a statement, but I can't cut and run here. I'm leaving my team there. It's an incredible state, and it's always had a reputation of being a progressive Southern state, and I believe they're going to do the right thing."
Watch a news report in which Silver discusses the North Carolina law, below.