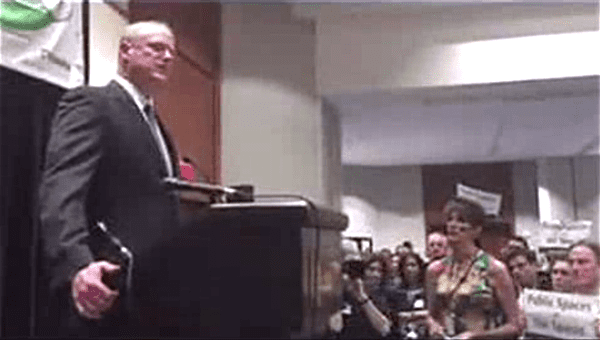 Massachusetts Governor Charlie Baker (R) was booed off stage while speaking at an LGBT event on Wednesday night over his failure to support a transgender rights bill.
If passed, the bill would extend anti-discrimination protections in the area of public accommodations to transgender citizens in the state.
Baker spoke [at Boston Spirit Magazine's LGBT Executive Networking Night] for about 18 minutes as 30 demonstrators stood silently in the front row holding signs that read "Public Spaces = Our Spaces. Trans Rights Now!" until he finally addressed the issue.
"We should not discriminate against anyone in the commonwealth of Mass.," Baker said.
"If and when (the bill) lands on my desk, I'll talk to all parties involved," he started to say before a chant of "Sign the bill" broke out.
Baker tried to rally by returning to the opioid epidemic and urging those in the crowd to "continue to have those conversations," about the public access bill, but he was shouted at and booed.
He then walked off the stage and left the ballroom at the Boston Marriott Copley Place.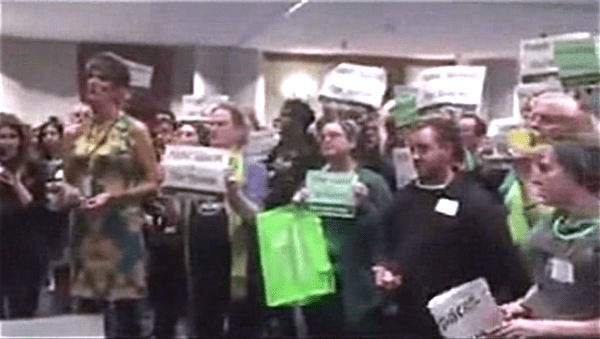 Baker reportedly did not address any specific LGBT issues during his speech:
Lorelei Erisis, a transgender resident from Ayer who works in Cambridge, called it "one of the most politically tone-deaf speeches I've ever heard."
"Forget trans people, this is an LGBT event and he barely even mentioned LGB issues, never mind the public access issue," she said. "He talked about the MBTA, he talked about his success with the opioid issues, which are all very important issues for him to be working on, but they are not necessarily relevant to this room full of rainbow flags. His silence to us is a de facto promise that he will veto. I hoped to be a Gov. Baker fan. I wanted to be optimistic."
After the incident, Baker did not change his stance:
A statement from the governor's office said, "He supports the 2011 legislation that expanded protections to transgender individuals and looks forward to reviewing additional legislation should it reach his desk."
Watch video of Baker being booed, below.