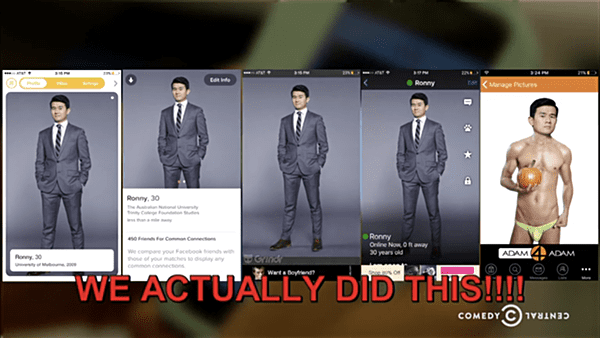 On Wednesday's The Daily Show, Jessica Williams and Ronny Chieng dove into the world of online dating to see if racism and sex are intertwined. Spoiler alert: they are.
Talking about sexual racism with Guardian writer Zach Stafford, Stafford said, "All we're talking about is the fact that we do think of race when we talk about desire and sometimes it can be detrimental to people."
And the evidence of sexual racism is far from being just anecdotal. Via Vox: 
Christian Rudder, co-founder of OKCupid, looked at data on online dating — who people messaged, who they matched with, who they responded to, and so on — and found a few patterns. "There is kind of a systemic racial bias pretty much in every dating site I've ever looked at," he said. "We found that 82 percent of non-black men have some bias against black women. … And Asian men get the fewest messages and the worst ratings of any group of guys."
Rudder added: "It's tempting to believe that there's a small group of racists kind of dragging down everybody else, but everybody collectively is rating Asian men or Black women poorly."
To go about the process more scientifically, Williams created a profile for Chieng on a bunch of different dating sites including Grindr, Scruff and Adam4Adam. The results were not great for Chieng. He explains, "After 8 days of swiping right on everybody, I got zero matches on Tinder. That's supposed to be the sluttiest one!"
As for why this racist bias exists, Stafford explains,
"The media tells us what we think is beautiful. When you live in a world that only shows white people being happy and in love and successful, even as people of color you're going to want that, and that's kind of what fuels your dating desires and sexual racism."
Watch the segment from Williams and Chieng, below.