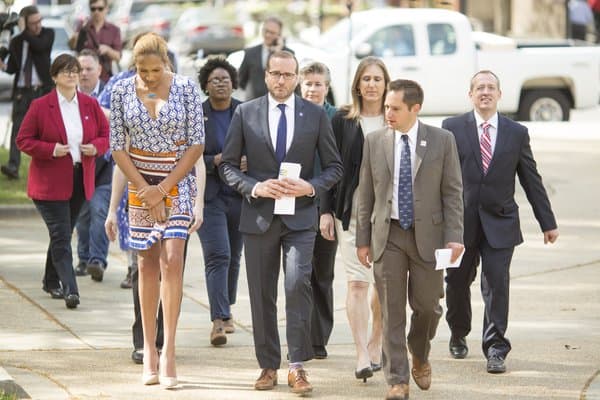 LGBT rights activists met with North Carolina Governor Pat McCrory on Thursday to deliver a letter signed by more than 100 business leaders urging McCrory to repeal HB 2, the state's newly enacted anti-LGBT law.
On hand were president of the Human Rights Campaign (HRC), Chad Griffin, executive director of Equality NC, Chris Sgro, and transgender rights advocate Candis Cox, among others.
Little has been revealed about what was said during the meeting, as The Charlotte Observer points out:
Media was not allowed to attend the meeting, and the three who participated wouldn't say what McCrory told them in response to their demands.
"I'm optimistic because it's the story that's happened in so many other states with so many other governors: That if this governor and these legislative leaders will actually sit down and listen to North Carolinians who are negatively impacted and harmed by this bill, they'll rethink it and they'll agree with us," said Chad Griffin, president of Human Rights Campaign.
McCrory spokesman Josh Ellis issued a statement in response to questions about the meeting. "Gov. McCrory appreciated the opportunity to sit down and deal with these complex issues through conversation and dialogue as opposed to political threats and economic retaliation," Ellis said.Griffin said the 100 businesses signing the repeal request represents an unprecedented level of support for LGBT rights."Never in the history of our movement have we seen this broad a coalition come together," he said.
Said Sgro of the meeting,
"While we were glad that the Governor agreed to meet with us today to take the first step towards doing the right thing, we reiterated that he must continue to meet with LGBT North Carolinians who are directly affected by the new law. We strongly urged the governor to repeal this harmful bill and restore North Carolina's image by working with the General Assembly to pass comprehensive non-discrimination protections including sexual orientation and gender identity."
.@equalitync, @HRC and trans woman Candice Cox met with @PatMcCroryNC to reiterate the importance of repealing #HB2 pic.twitter.com/4TtJSAqOJC

— Equality NC (@equalitync) March 31, 2016
Executive Director .@cristoferosgro, calling on @PatMcCroryNC to take a stand against #HB2 and discrimination pic.twitter.com/3EbqoujFJS

— Equality NC (@equalitync) March 31, 2016
Earlier on Thursday, Governor McCrory appeared on Fox & Friends to bash LGBT rights activists and progressive news media who brought attention to the discriminatory HB 2. Said McCrory: " It's amazing that the national politically correct police have descended on my state and unfairly smeared my state."
Check out another photo shared by Griffin on Twitter, below.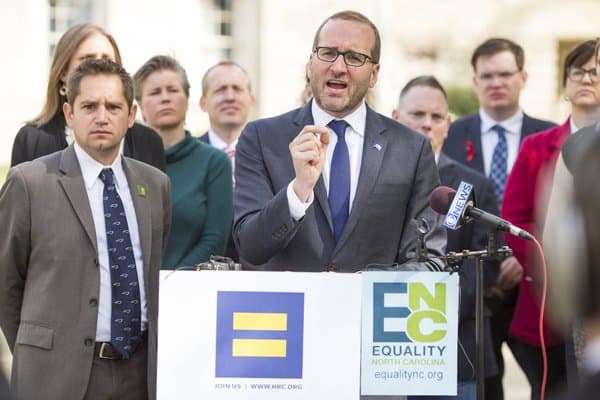 UPDATE: HRC posted video of Griffin lobbying (quite literally) to be able to deliver the letter to Governor McCrory. Griffin refused to deliver the letter alone without being accompanied by a representative from the transgender community in North Carolina, who he notes is the community most adversely affected by HB2.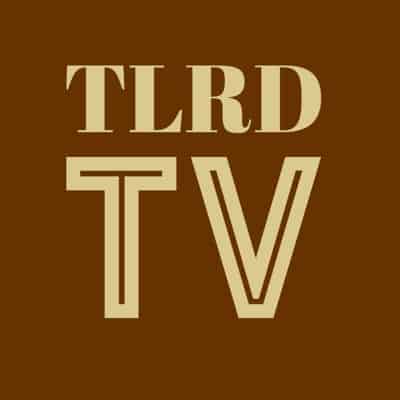 [Top photo via Twitter]